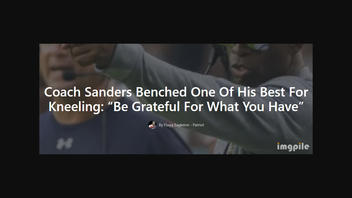 Did Deion Sanders, head football coach at the University of Colorado Boulder, bench "one of his best" players for kneeling while the national anthem was playing? No, that's not true: The claim was featured in an article on a satirical website. The site's About Us page says: "Everything on this website is fiction."
The claim appeared in an article (archived here) published by conservativetears.com headlined "Coach Sanders Benched One Of His Best For Kneeling: 'Be Grateful For What You Have'." It opened:
Colorado Head Coach Deion Sanders has been in the national spotlight a lot lately for his play-calling on the field. What he's not getting any attention for is the woke "anthem kneeling" movement.
Users on social media only saw this title, description and thumbnail: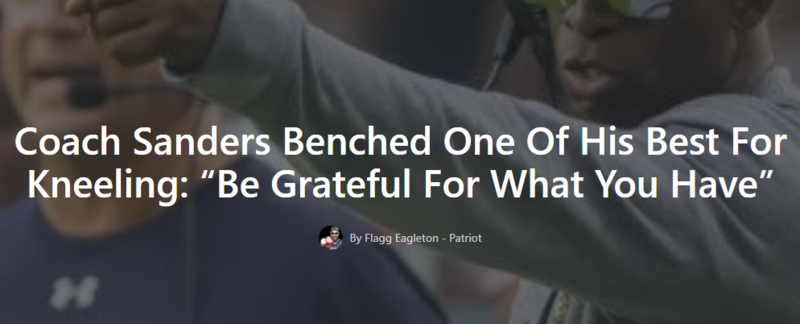 The article said Sanders benched one of his star players, "Running Back Joe Barron," for the game with Oregon.
Lead Stories reached out to the University of Colorado's athletic communications department. Curtis Snyder, assistant athletic director in the sports information office, responded in a September 29, 2023, email, saying of the claim:
It's fake.

College football players are, in every game I've been part of, not on the field for the anthem anyway. They are in the locker room while the band does a full-field performance.
A Google search (archived here) using the keywords "Deion Sanders said, "If you want to protest, get a liberal arts degree and go hang out with a bullhorn on the quad," produced no results to substantiate this claim.
The article identified the benched player as Joe Barron. The 2023 football roster (archived here) of the Colorado Buffaloes does not include any player in the position of running back by the name of Joe Barron.
Joe Barron was a now-deceased friend of Christopher Blair, who created and operates a group of satirical websites including conservativetears.com. Barron's name is often seen in articles on Blair's sites.
Conservative Tears is part of America's Last Line of Defense network of satirical sites run by Blair. A disclaimer on their website states, "Everything on this website is fiction.":
About Satire

Before you complain and decide satire is synonymous with "comedy":

sat·ire ˈsaˌtī(ə)r noun: The use of humor, irony, exaggeration, OR ridicule to expose and criticize people's stupidity or vices, particularly in the context of contemporary politics and other topical issues.

Everything on this website is fiction. It is not a lie and it is not fake news because it is not real. If you believe that it is real, you should have your head examined. Any similarities between this site's pure fantasy and actual people, places, and events are purely coincidental and all images should be considered altered and satirical. See above if you're still having an issue with that satire thing.
Other Lead stories fact checks about conservativetears.com can be found here.