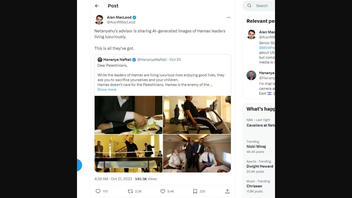 Are photos showing leaders of Hamas "living luxuriously" generated by artificial intelligence? No, that's not true: The set of images in a viral social media post making that claim already appeared in an article published online in 2014. The person who posted the images in October 2023 later clarified he ran them through an upscaling algorithm in an attempt to improve their quality.
The claim appeared in a post (archived here) published on X, the platform formerly known as Twitter, on October 21, 2023. The post was a response to a tweet that showed Hamas leaders with a caption saying that "leaders of Hamas are living luxurious lives." In response, the post making the claim read:
Netanyahu's advisor is sharing AI-generated images of Hamas leaders living luxuriously.

This is all they've got.
This is what the post looked like on the X platform at the time of writing: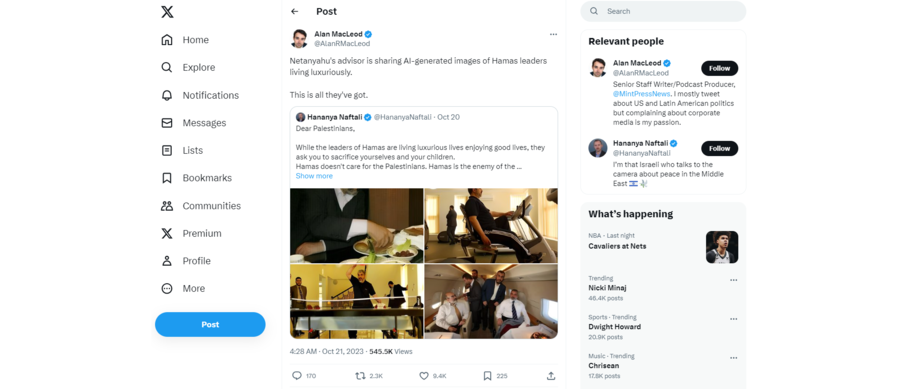 (Source: X screenshot taken on Thu Oct 26 18:56:07 2023 UTC)
Lead Stories used Google's reverse image search (here, here, here and here) and TinEye (here, here, here and here) to find the source of the images. Between the two search engines, the searches showed that all the images have appeared online since at least 2014, with two appearing even earlier (archived here).
An article published by Ynet News on July 22, 2014, features all the images. Titled "Private jets, restaurants, luxury hotels: The good life of senior Hamas officials," the article details the lifestyles of Hamas leaders at the time including Khaled Mashal, former political leader of Hamas, and Ismail Haniyeh, the political leader of Hamas as of October 26, 2023. Both those leaders are shown in the images in question. The images have no attribution, but the article specifically mentions that the images of Mashal are "old photos" that "resurfaced." An archived version of the article proves that the images were included in the article since 2014 and were not added during the 2023 Hamas-Israel conflict.
Forbes reported that the images as they appeared in the X post went through an "upscaler," a tool that often uses AI in an attempt to improve image quality. Such a process can lead to the assumption that images are AI-generated.
Other Lead Stories articles on claims pertaining to the 2023 Hamas-Israel conflict are here.