STORY UPDATED: check for updates below.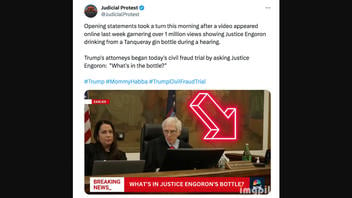 Was "Justice Engoron," the judge who is overseeing former President Donald Trump's civil trial, drinking from a Tanqueray gin bottle during a hearing? No, that's not true: The bottle seen on Judge Arthur Engoron's bench is a bottle of Mountain Valley Spring water, as sold at Walmart and other outlets. The label and lid on the bottle match the green glass bottled water, not a bottle of Tanqueray gin.
The claim appeared in a post (archived here) where it was published by the account Judicial Protest on X, formerly known as Twitter, on October 2, 2023. The caption read:
Opening statements took a turn this morning after a video appeared online last week garnering over 1 million views showing Justice Engoron drinking from a Tanqueray gin bottle during a hearing. Trump's attorneys began today's civil fraud trial by asking Justice Engoron: "What's in the bottle?" #Trump #MommyHabba #TrumpCivilFraudTrial
This is what the post looked like on Twitter at the time of writing: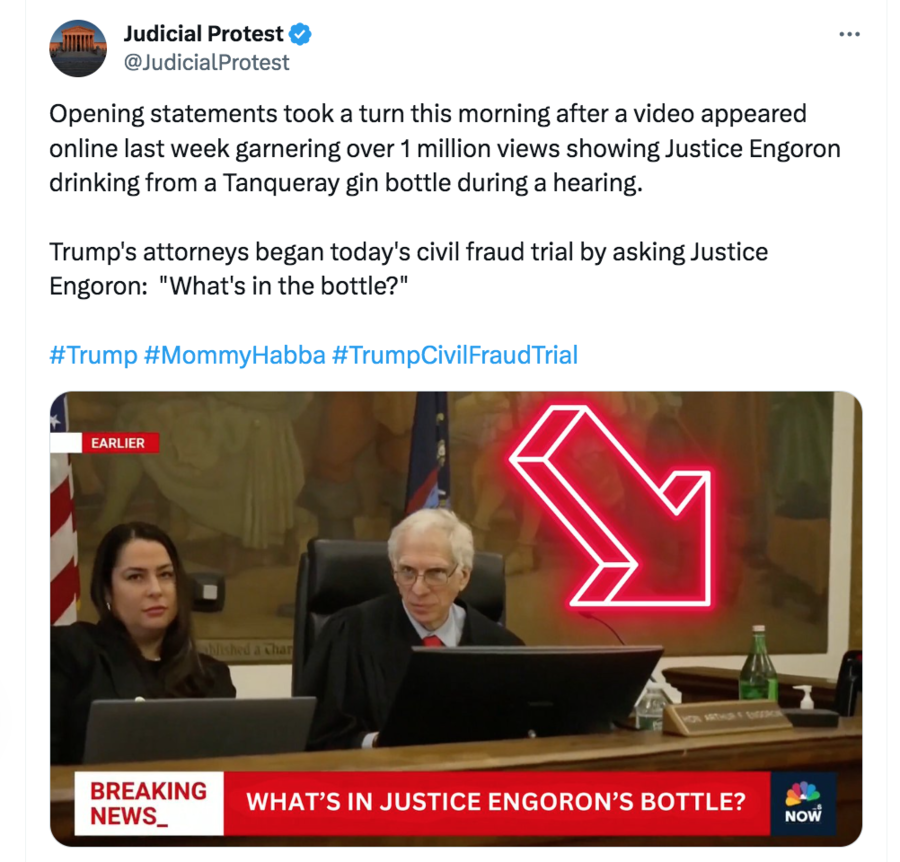 (Source: Twitter screenshot taken on Tue Oct 3 23:00:49 2023 UTC)
The JudicialProtest account posted again about the Judge Arthur Engoron (archived here), who is presiding over Trump's civil trial (archived here), and a bottle, with this claim (archived here) calling the bottle it a "40oz" -- a nickname for a large bottle of malt liquor or beer -- and referring to the him as a "Hobo Judge."
Watch Corrupt Hobo Judge Arthur Engoron, the judge who cancelled Trump's business registrations without a trial, drink from a 40oz during a contempt hearing and admit that he "goofed" with respect to his rulings.#Trump #TrumpIndictment #Trump2024 #MommyHabba #MAGA... https://t.co/NHONL5TvRk

-- Judicial Protest (@JudicialProtest) October 2, 2023
This video does not show the judge drinking from a bottle of Tanqueray gin or placing one on his desk.
A screenshot from a video from the court proceedings posted on the Fox News verified Instagram account on October 2, 2023 shows Judge Engoron sitting on the bench with the bottle to his left, which matches the image on the X post. The post on X has a doctored chyron purporting to be a news report that reads, "WHAT'S IN JUSTICE ENGORON'S BOTTLE?" with the NBC peacock logo askew on the right side of the screen.
Here is an image from the Fox video, matched to the image on the X post, alongside an image of the Mountain Valley Spring Water bottles found for sale on Walmart.com:
(Source: Lead Stories artwork Tue Oct 3 23:12:32 2023 UTC left: FOX image, center: bottle image from X post, right:Walmart.com image of Mountain Valley water bottle)
Tanqueray gin has a white screw cap, a red wax seal at the top, and a glued-on white label that wraps around the bottle, unlike the bottle in the courtroom, which has a painted-on label. Here is what a bottle of Tanqueray Gin looks like on the website of Haskells, a wine and spirits retailer: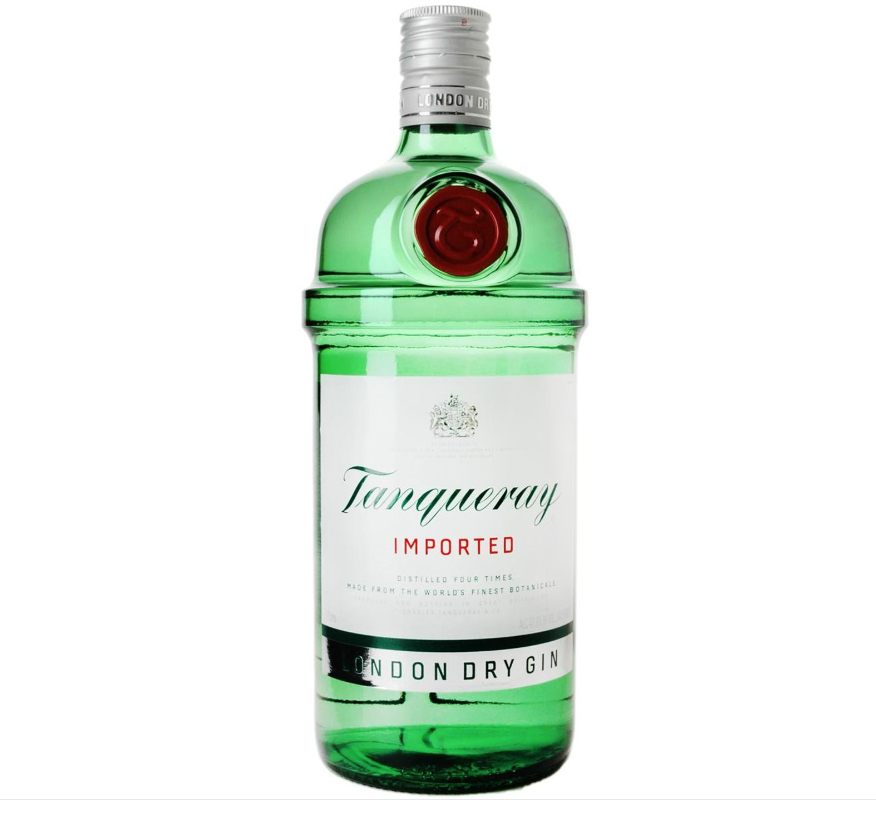 (Source: Haskell's website created Tue Oct 3 23:28:43 2023 UTC)
2023-10-04T00:47:11Z

2023-10-04T00:47:11Z

Updated to remove repeated photo.