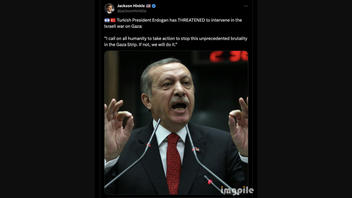 Did Turkish President Recep Tayyip Erdogan say his country may get involved in the Hamas-Israel conflict? No, that's not true: His words as cited in a social media post were both misconstrued and altered. Erdogan did not talk about military intervention -- he called for the world to come together to stop violence in Gaza.
The claim originated from a post (archived here) published on X, formerly known as Twitter, on October 18, 2023. It opened:
🇮🇱🇹🇷 Turkish President Erdogan has THREATENED to intervene in the Israeli war on Gaza:

'I call on all humanity to take action to stop this unprecedented brutality in the Gaza Strip. If not, we will do it.'
This is what the post looked like on X at the time of writing: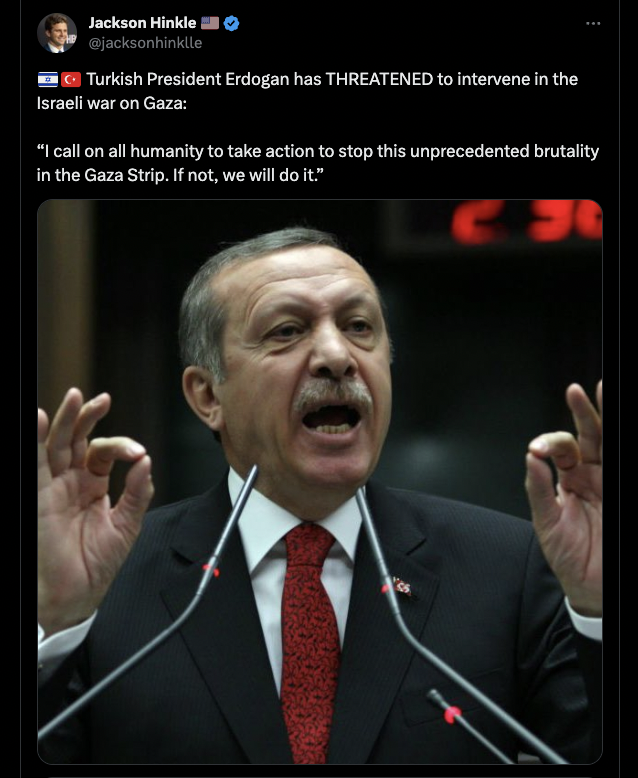 (Source: X screenshot taken on Thu Oct 19 14:22:01 2023 UTC)
While part of the quote attributed to Erdogan appeared (archived here) on his account on X, the full version of the statement shows that Erdogan's words had a different meaning. As translated by DeepL, his post reads:
The destruction of a hospital containing women, children and innocent civilians is the latest example of Israel's attacks devoid of the most basic human values.

I call on all humanity to take action to stop this unprecedented atrocity in Gaza.
Posts on social media altered the original quote by adding an extra sentence: "If not, we will do it." Erdogan's post did not contain such an implied threat.
Unlike many countries, including the United States, Turkey does not recognize Hamas as a terrorist organization. Yet, up until late September 2023, Erdogan was trying to improve relations with Israel too.
On October 19, 2023, Anadolu (archived here), a Turkish state-run news agency, cited Erdogan emphasizing his peace-making efforts, not threatening to intervene:
We have made intense efforts since the first day to resolve the crisis, which started on Oct. 7 and has the risk of spreading to our entire region ...
One day before that, the same state-run agency published another article (archived here) citing Turkey's Minister of Foreign Affairs Hakan Fidan, who described Erdogan's approach as an attempt to reach a long-term improvement in the region:
Out of this war, bigger wars could arise, but it could also lead to a historic peace. Our president (Recep Tayyip Erdogan) believes a historic peace is possible ...
Had Erdogan's official stand on the matter been different, that would have been widely reported by both Turkish media and international news organizations.
As of this writing, Turkey's known role is limited to diplomatic talks, including those on hostages kept in Gaza, and delivering humanitarian aid there.
Other Lead Stories fact checks regarding the 2023 Hamas-Israel conflict can be found here.