STORY UPDATED: check for updates below.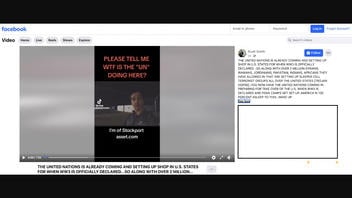 Does a video on social media prove that the United Nations "is setting up shop" in the United States in 2023 to plot for a "take over" scheduled to take place "when WW3 is declared"? No, that's not true: This years-old claim was refuted by a U.S. State Department representative in 2016. He said that the U.N. vehicles seen in the United States are made for overseas deployment, not domestic use. He added that the vehicles "are for civilian peacekeeping missions of the U.N.," not military use.
The claim appeared in a post on Facebook on October 18, 2023 (archived here). It opened:
THE UNITED NATIONS IS ALREADY COMING AND SETTING UP SHOP IN U.S. STATES FOR WHEN WW3 IS OFFICIALLY DECLARED...SO ALONG WITH OVER 2 MILLION SYRIANS, IRANIANS, JORDINIANS, PAKISTANI, INDIANS, AFRICANS THEY HAVE ALLOWED IN THAT ARE SETTING UP SLEEPER CELL TERRORIST GROUPS ALL OVER THE UNITED STATES [TROJAN HORSE]..YOU NOW HAVE THE UNITED NATIONS COMING IN PREPARING FOR TAKE OVER OF THE U.S. WHEN WW3 IS DECLARED AND FEMA CAMPS GET SET UP..AMERICA IS 100 PERCENT ASLEEP TO THIS...WAKE UP
This is what it looked like on Facebook at the time of writing: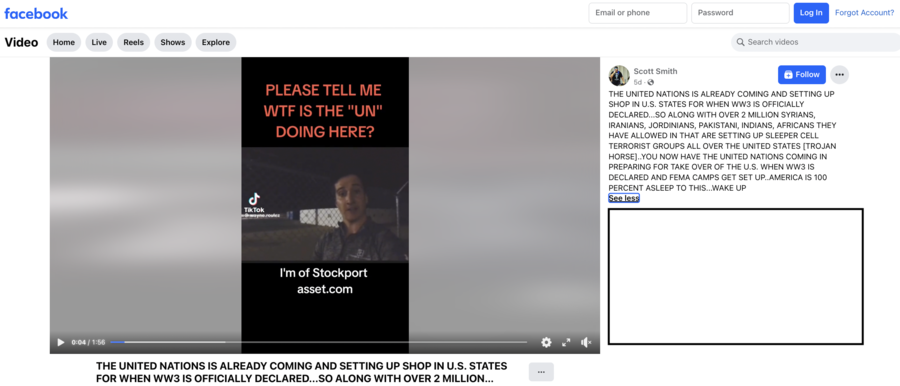 (Source: Facebook screenshot taken on Mon Oct 23 19:07:49 2023 UTC)
The shared video showed containers and a variety of vehicles with U.N. markings filmed at night at a location that appeared to be a warehouse.
However, the footage did not portray events in 2023: It has been on YouTube (archived here) at least since 2017. The caption to the YouTube video contained a link to an article that tied the footage to a particular address: 11841 Newgate Boulevard, Hagerstown, Maryland.
In 2023, Google Earth still showed an array of U.N. vehicles parked there: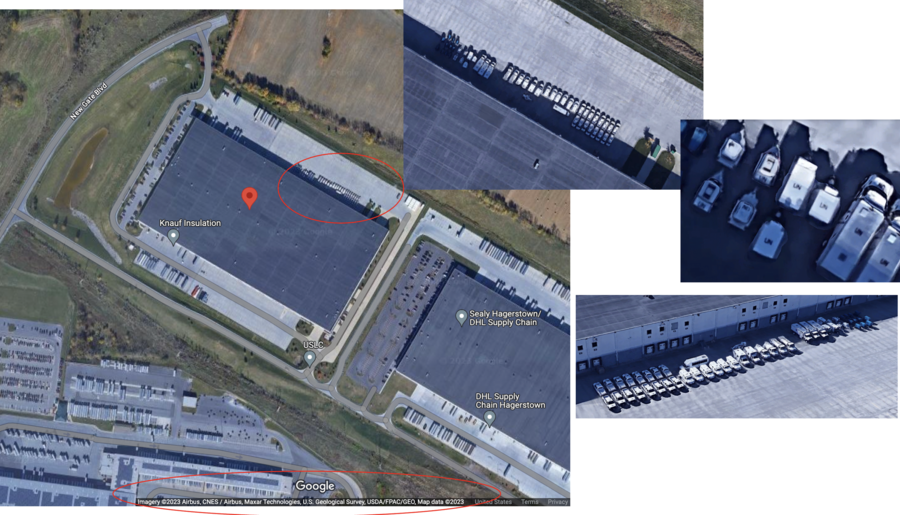 (Sources: Google Earth screenshot taken on Tue Oct 24 13:50:41 2023 UTC; Google Earth screenshot taken on Tue Oct 24 13:43:20 2023 UTC; Google Earth screenshot taken on Tue Oct 24 13:43:56 2023 UTC; Google Earth screenshot taken on Tue Oct 24 13:45:48 2023 UTC; composite image by Lead Stories)
Available public records (archived here) suggest that the building -- at least partly -- was associated with the U.S. Department of State in 2016.
The visuals alone do not necessarily mean that covert activities were caught on camera. When it comes to sensitive information, governments may request Google blur the area in question (archived here.) But in the given case, the images continued to be available.
A U.S. State Department spokesperson told Lead Stories via email on October 25, 2023:
UN peacekeeping vehicles, which were manufactured in the United States, had been stored at a State Department warehouse in Hagerstown, Maryland until they were shipped to their destination overseas. They will be used exclusively in UN peace operations abroad.

The vehicles were purchased by the State Department's Bureau of International Narcotics and Law Enforcement Affairs (INL). INL's mission is to keep Americans safe by countering international crime, illegal drugs, and instability abroad. Its programs include training and equipment assistance - such as vehicles -- to partner country police preparing for deployment to UN peacekeeping operations.
The question of U.N. vehicles in Maryland was covered by the local press in 2016. At the time, a West Virginia-based outlet,
The Journal
(archived
here
), published a story citing the U.S. State Department's Head of Public Affairs/Public Diplomacy INL Bureau Mike Alpern. He refuted the speculations, too:
The main reason (the vehicles are there) is because of proximity to the Port of Baltimore for when we do need to ship these overseas.
He continued:
All of the vehicles that have the U.N. markings, those are all intended for U.N. Peacekeeping Operations overseas. So again let me clarify: none of this is to be used domestically in the U.S. The reason some of those vehicles look armored is because of the U.N. has specifications for keeping their peacekeeping personnel safe when they are operating in dangerous environments overseas, so we refer to them as armored vehicles ...
The idea that the U.N. might carry out some kind of a hostile "takeover" in the United States contradicts the most basic facts about this organization.
The U.N. doesn't have its own army in the traditional meaning of the word. As the organization's website (archived here) explains, its military forces known as the Blue Helmets consist of "70,000 military personnel contributed by national armies from across the globe."
All U.N. peacekeeping missions have to be approved by the Security Council (archived here). It is a body consisting of 15 members, out of which only five -- including the United States -- are permanent. In practice, this means that while most U.N. decisions require nine votes out of 15, that has to include all the permanent members and each of them has a right to block a discussed measure.
Had the idea of a hypothetical deployment in the U.S. made it to the final vote at the U.N. Security Council after the required multiple rounds of consultations and evaluations, the U.S. representative would oppose it. Every time one of the permanent members exercises its veto power, that is typically covered by the press (for example, as it happened in October 2023).
But this vote did not happen in 2023: A manual review of the Security Council voting records on the United Nations Digital Library website (archived here) does not show any supporting evidence.
No media outlet (archived here) reported such "news" in 2023:

(Source: Google News screenshot taken on Tue Oct 24 21:58:06 2023 UTC)
Another reason why such a scenario does not appear even remotely possible is because the United States historically has been one of the largest contributors to the United Nations' budget. For example, as the Council of Foreign Relations (archived here) pointed out, in 2021, the U.S. spent $12 billion on these purposes, "accounting for just under one-fifth of funding for the body's collective budget."
The claims implying a range of purported nefarious activities allegedly planned by the U.N. in the United States have been circulating online at least since 2014 when people started to post images of the U.N. vehicles being transported on American highways.
In 2016, the British tabloid Daily Mail (archived here) wrote an article reproducing baseless rumors that the sightings were linked to the purported U.N. response to either the supposed upcoming economic collapse in the U.S. or to some Iranian ships purportedly approaching American soil.
That year, Buzzfeed News (archived here) talked to Fred Khoroushi, the CEO of Alpine Armoring, the company that made at least some of the vehicles in question. He mentioned "wild speculations on this subject matter."
In 2016, Snopes (archived here) also debunked a variation of the rumor involving U.N. vehicles seen in other states. Representatives of Alpine Armoring and other defense manufacturers based around Washington, D.C., confirmed to the website the U.N. vehicles were ordered to be used overseas.
As of this writing, the Alpine Armoring website (archived here) still showed logos of the U.S. Department of State, the U.S. Department of Homeland Security and the United Nations.
Lead Stories reached out to the company, the U.S. Department of State and the United Nations for additional comments. When we receive a response, the article will be updated as appropriate.
2023-10-25T20:32:19Z

2023-10-25T20:32:19Z

Adds October 25, 2023, response from the U.S. State Department.