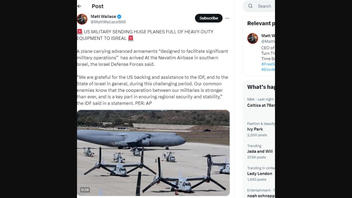 Does a video show planes that belong to the U.S. military carrying heavy equipment to Israel amid the 2023 Hamas-Israel conflict? No, that's not true: The video on X used in the claim uses a clip that predates the conflict. The U.S. sent military equipment to Israel after the beginning of the conflict but that's not in the video.
The claim appeared in a post (archived here) on X, formerly known as Twitter, on October 11, 2023. It included a video of U.S. military planes. The text of the post read:
🚨 US MILITARY SENDING HUGE PLANES FULL OF HEAVY-DUTY EQUIPMENT TO ISREAL 🚨

A plane carrying advanced armaments 'designed to facilitate significant military operations' has arrived At the Nevatim Airbase in southern Israel, the Israel Defense Forces said.

'We are grateful for the US backing and assistance to the IDF, and to the State of Israel in general, during this challenging period. Our common enemies know that the cooperation between our militaries is stronger than ever, and is a key part in ensuring regional security and stability,' the IDF said in a statement. PER: AP
This is how the post looked on X at the time of writing: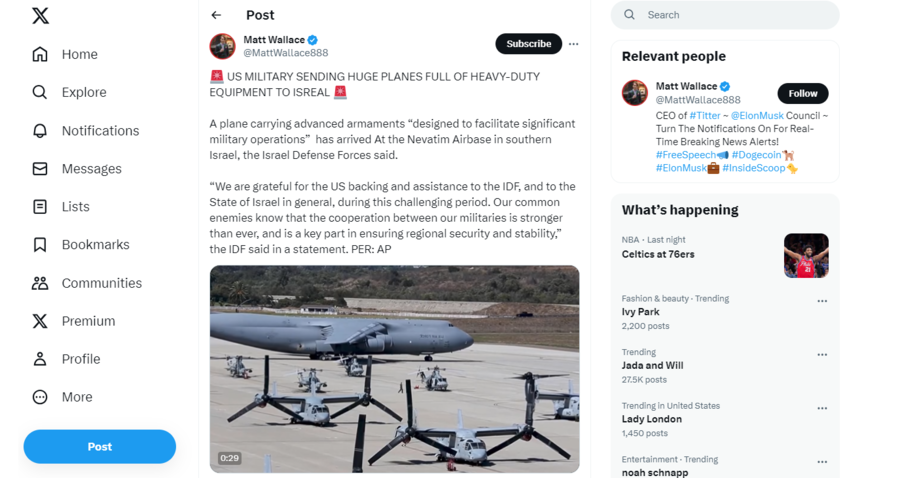 (Source: X screenshot taken on Thu Oct 12 17:25:29 2023 UTC)
Lead Stories used Google Image search (archived here) and found that the video used in the post on X has footage that predates the Hamas-Israel conflict, which began on October 7, 2023. Footage matching the opening clip in the post was uploaded to YouTube (archived here) on January 26, 2020, well before the start of the conflict. The orientation of the clip differs from the post but they are ultimately the same.
The video posted to YouTube shows footage of the C-5M Super Galaxy aircraft (archived here), the largest aircraft the U.S. Air Force owns. According to the description, the footage was taken on October 4, 2019, as the aircraft took off from Marine Corps Air Station Camp Pendleton, California (archived here).
Although the post on X making the claim states that it's citing The Associated Press, the quoted information from the news organization is used out of context. The U.S. did send aid to Israel during the Hamas-Israel conflict of 2023 shortly after it began: However, the video has nothing to do with the AP's coverage of the Hamas conflict.
Other Lead Stories articles on claims related to the 2023 Hamas-Israel conflict are here.