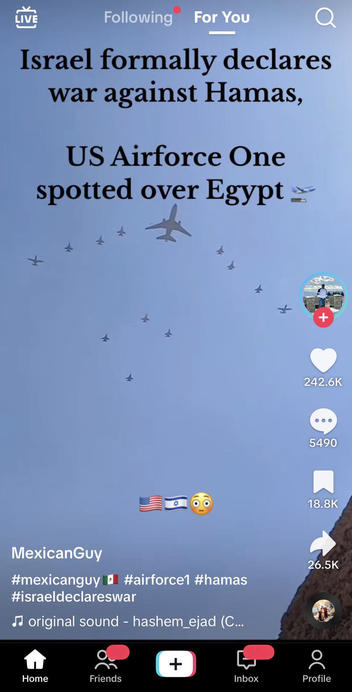 Does this video filmed near the base of a pyramid show a flyover of Air Force One -- the U.S. president's aircraft -- over Egypt following Israel's declaration of war against Hamas in October 2023? No, that's not true: This is not Air Force One but a refueling tanker -- a KC-10 Extender. This formation, including jets from Egypt, Pakistan and the U.S., was part of Bright Star 23, a biannual joint military exercise including 34 nations that took place in Egypt before the Hamas-Israel conflict began.
The claim appeared in the caption of a video (archived here) on TikTok on October 9, 2023, by MexicanGuy @zurilopez23, with the following description:
#mexicanguy🇲🇽 #airforce1 #hamas #israeldeclareswar
This is what the post looked like on TikTok at the time of writing: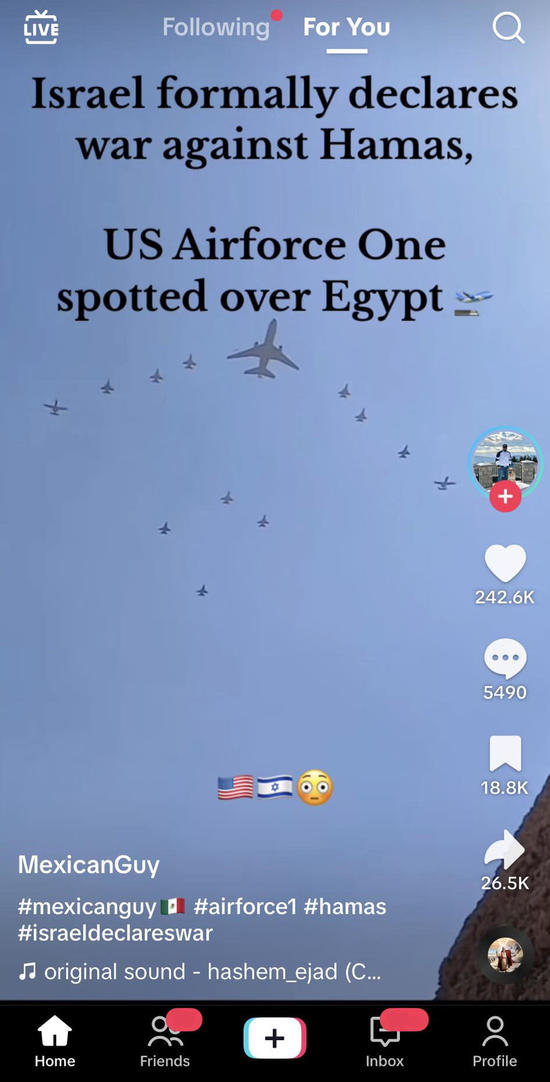 (Source: TikTok screenshot taken on Thu Oct 12 17:18:20 2023 UTC)

Captioning on the video reads:
Israel formally declares war against Hamas,
US Airforce One spotted over Egypt
This formation did fly over Egypt, but the president of the United States was not in the large plane in the center of the formation. This video shows a multinational flight formation that flew on September 14, 2023, during Exercise Bright Star 23 (archived here). The website of U.S. Central Command explains this multinational training exercise is held every two years and has been occurring since 1980. There were 34 nations participating in Exercise Bright Star 23, which began on August 31, 2023, and ran until September 14, 2023, finishing weeks before the attacks by Hamas on Israel, which began on October 7, 2023.
B-roll footage of the formation filmed on September 13, 2023, is hosted on the dvidshub.net website (archived here) from the U.S. Department of Defense. The caption of the video identifies the three models of fighter jets included in the formation along with the refueling tanker plane -- a KC-10 Extender. Starting at about 30 seconds in, there is footage shot from the KC-10 looking out at the jets in formation off the wings:
U.S. Air Force and Egyptian Air Force F-16 Fighting Falcons, A-10 Thunderbolt IIs and Pakistan Air Force JF-17 Thunder aircraft fly in formation off of the wing of a KC-10 Extender during exercise Bright Star 23 over Egypt, Sept. 14, 2023. Bright Star 2023 is a multilateral U.S. Central Command exercise held with the Arab Republic of Egypt across air, land and sea domains that promotes and enhances regional security and cooperation, and improves interoperability in irregular warfare against hybrid threat scenarios. (U.S. Air Force video by Staff Sgt. Emily Farnsworth)
Other Lead Stories articles on claims related to the 2023 Hamas-Israel conflict are here.