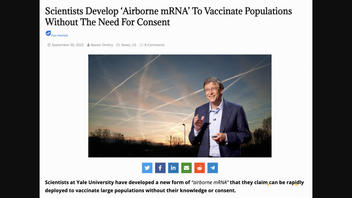 Did Yale scientists say that a new form of "airborne mRNA" is being developed specifically for non-consensual mass vaccination? No, that's not true: The study conducted on rodents did not discuss that. The fact that an experiment appears to have worked when tested on mice never automatically translates into expedited application on people "without their knowledge," an NYU professor of bioethics told Lead Stories.

The story appeared in an article (archived here) published by the People's Voice on September 30, 2023, under the title:
Scientists Develop 'Airborne mRNA' To Vaccinate Populations Without The Need For Consent.
The opening paragraph stated that the researchers allegedly admitted that it was their goal:
Scientists at Yale University have developed a new form of 'airborne mRNA' that they claim can be rapidly deployed to vaccinate large populations without their knowledge or consent.
Here is what it looked like at the time of writing: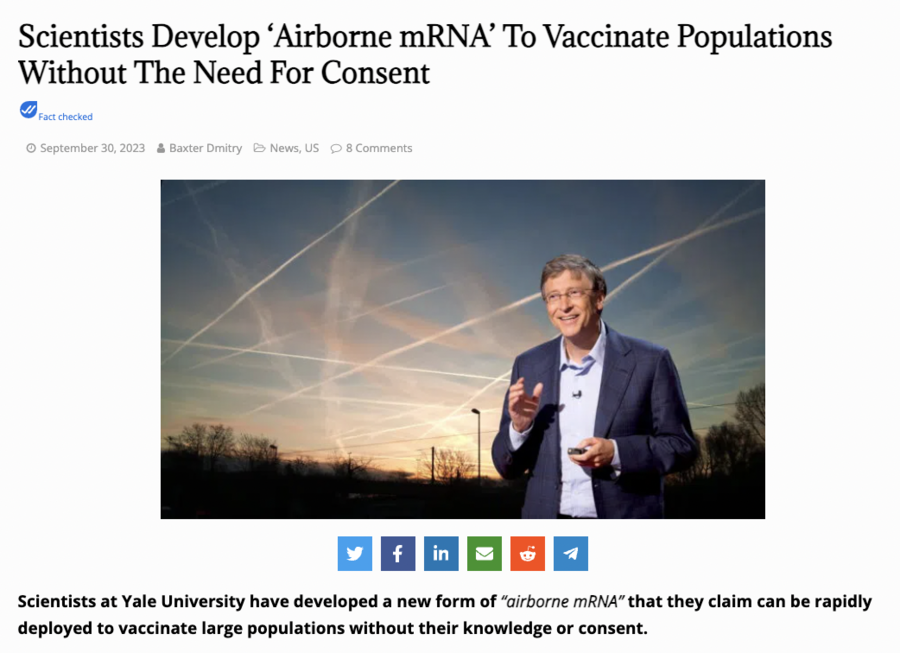 (Source: the People's Voice screenshot taken on Tue Oct 3 14:11:08 2023 UTC)
The People's Voice article cited a research paper that was authored by a collective of Yale scientists led by Mark Saltzman and published in the Science magazine (archived here) on August 16, 2023.
The summary of the paper available free of charge didn't say anything about the purportedly stated purpose of bypassing consent -- it only discussed a new vehicle for the vaccine delivery that may have a potential but, as of the moment of publication, was only tested on mice, not humans:
Polyplex-delivered mRNAs were efficiently translated into protein in the lungs of mice with limited evidence of toxicity. This platform was successfully applied as an intranasal SARS-CoV-2 vaccine, eliciting robust immune responses that conferred protection against subsequent viral challenge. These results highlight the potential of this delivery system for vaccine applications and beyond.
Lead Stories obtained the full text of the article. It did not say anything about nonconsensual mass vaccination, either. Instead, it argued that the invention may make vaccines against specific diseases localized in a particular part of the body more effective due to the shortened -- compared to injections -- route of administration:
An inhalable or topically administered delivery vehicle would facilitate minimally invasive and lung-targeted therapies for pulmonary pathologies.
Furthermore, the text confirmed that the research is not anywhere near the point when it can be applied to the general population:
...we studied responses only in mice, and it will be necessary to repeat this study in larger animal models.
Arthur Caplan, Ph.D. (archived here), who is a professor of bioethics and the founding head of the Division of Medical Ethics at NYU Grossman School of Medicine, told Lead Stories via email on October 3, 2023:
Studies on mice that appear to work have no bearing, none, zero, on whether they may be attempted on humans in clinical trials or for mass administration.

All human use must be approved by an IRB and explicitly consented to by the human subjects.
IRBs, or Institutional Review Boards (archived here), are the oversight bodies to "review and monitor biomedical research involving human subjects":
In accordance with FDA regulations, an IRB has the authority to approve, require modifications in (to secure approval), or disapprove research. This group review serves an important role in the protection of the rights and welfare of human research subjects.
Vaccines are FDA-regulated products and, therefore, the government agency additionally reviews safety information before approving them for use in the general population.
The FDA's Center for Biologics Evaluation and Research is the specific sub-division regulating vaccine approval, and the list of currently approved items (archived here) does not include intranasal vaccines against COVID-19, even though there are at least two vaccines of this type for influenza prevention.
Just like the free summary and the Science article, a Yale press release discussing the matter said nothing about the rapid deployment of the new method "to vaccinate large populations without their knowledge or consent." In contrast, it highlighted one more potential benefit:
...the shot isn't necessary to provide protection.
According to the CDC (archived here), "as many as 2 in 3 children and 1 in 4 adults have strong fears around needles" and "as many as 1 in 10 people might delay the COVID-19 vaccine due to these fears."
The People's Voice is one of the most prolific false stories publishers. Its Facebook page, "The People's Voice," lost its verification checkmark, according to a 2018 report from Media Matters For America.
The website describes itself as a resource "comprised of various web pages operated by Fact Checked Limited," but it has nothing to do with fact-checking.
As of this writing, its website showed a liability disclaimer, saying:
FACT CHECKED LIMITED AND/OR ITS SUPPLIERS MAKE NO REPRESENTATIONS ABOUT THE SUITABILITY, RELIABILITY, AVAILABILITY, TIMELINESS, AND ACCURACY OF THE INFORMATION, SOFTWARE, PRODUCTS, SERVICES AND RELATED GRAPHICS CONTAINED ON THE SITE FOR ANY PURPOSE. TO THE MAXIMUM EXTENT PERMITTED BY APPLICABLE LAW, ALL SUCH INFORMATION, SOFTWARE, PRODUCTS, SERVICES AND RELATED GRAPHICS ARE PROVIDED 'AS IS' WITHOUT WARRANTY OR CONDITION OF ANY KIND.
Other Lead Stories articles mentioning mRNA can be found here; Lead Stories fact checks about COVID-19 are here.