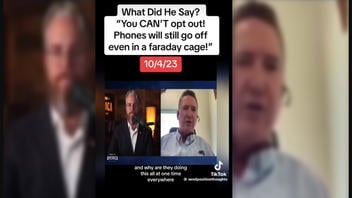 Is it true that there will be no way to opt out of the FEMA and FCC Nationwide Emergency Alert Test on October 4, 2023? No, that's not true: If a person does not want to receive the Wireless Emergency Alert (WEA) portion of the test, they need only to turn their phone off at approximately 10:20 a.m. Alaska Time (2:20 p.m. Eastern Time).
The "Man in America" podcast with Seth Holehouse was streamed live on Rumble on September 25, 2023. The 1:14:45 hour long episode was titled, "The Disturbing Connection Between the October 4th EBS & the CCP -- Todd Callender Interview."
A 01:07 minute long clip from the podcast was published by @sendpositivethoughts on TikTok (archive here) and that was reposted on Facebook by the page "Jessica Sifre" on September 30, 2023 (archived here). The TikTok captioning that had been added to the video reads:
What Did He Say?
"You CAN'T opt out!
Phones will still go off
even in a faraday cage!"
10/4/23
This is what the post looked like on Facebook at the time of writing: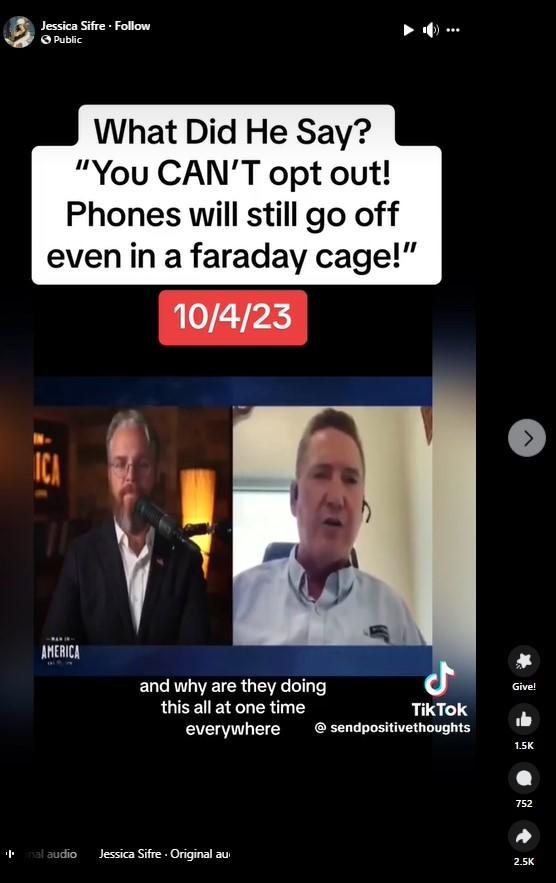 (Source: Facebook screenshot taken on Mon Oct 2 19:37:32 2023 UTC)
People may also be able to disable emergency alerts through the notifications menu in their phone's settings; however it is not possible to opt out of Presidential Alerts during a national emergency. Emergency alerts are designed to keep the public informed in the event of an emergency.
This fact check is focused on the false claim contained within the short clip -- that it is impossible to opt out of this WEA test "even in a faraday cage" (a reference to a protective enclosure that blocks certain types of electromagnetic radiation).
The claim is not true -- but without the full context of the "Man in America" podcast, the level of alarm conveyed in this clip is puzzling.
The alarmist context
At 29:40 minutes into the podcast Callender suggests that the government is up to something, that this test is being done under false pretenses and that the broadcast wavelengths of the test will release dormant pathogens which were purportedly encapsulated in the lipid nanoparticles in the COVID-19 vaccines. He lists Marburg virus pathogens, Ebola, staphylococcus, and e coli. Earlier in the podcast, at 09:37 minutes in, Holehouse shared a video from Jason Shurka (archived here), who said:
The Emergency Broadcast System will be activated across the entire United States under the leadership of FEMA, disguised as a test. However this test will be used to send a specific high frequency signal through devices like smartphones, radios and TVs with the intention of activating graphene oxide and other nanoparticles that have been inserted into billions of human beings around the world through the obvious mediums. Everyone will be affected regardless of your status.
In a second video posted under the first, Shurka walks back this alarmist message and tells people to, "...not put yourself into a state of fear and instead transition into a state of gratitude."
Lead Stories has debunked a claim that the FEMA Emergency Test will activate nanoparticles and graphene oxide, and has fact checked several false claims pertaining to Ebola or Marburg viruses, or graphene oxide in the vaccines.
Wireless Emergency Alerts
A FAQ from the National Weather Service (NWS) explains:
Wireless Emergency Alerts (WEA) are emergency messages sent by authorized government alerting authorities through your mobile carrier. Government partners include local and state public safety agencies, FEMA, the FCC, the Department of Homeland Security, and the National Weather Service. No signup is required! Alerts are sent automatically to WEA-capable phones during an emergency.
These alerts will reach phones in the affected area, so if a person is traveling they will receive information about emergencies impacting the region where they are. The types of alerts are:
Extreme Weather and Hydrologic Warnings
Local emergencies requiring evacuation or immediate action
AMBER Alerts
Blue Alerts
Presidential Alerts during a national emergency
The October 4, 2023, test
There are two alert systems that will be tested on October 4, 2023, or if postponed, October 11, 2023 -- the Emergency Alert System (EAS) and Wireless Emergency Alert (WEA). The EAS will be sent to radios and televisions, while the WEA will be directed to cell phones. This is scheduled to happen at 10:20 a.m. AKT (Alaska Time Zone) which is four hours behind Eastern Time, where the test should begin at 2:20 p.m. Information about the test can be found from the NWS or the August 3, 2023, FEMA press release.
How to opt out
Included in the NWS fact sheet is a link to this video (embedded below) on the Cellular Telecommunications and Internet Association (CTIA) website. The video instructs that the emergency alert settings can be checked in the phone's settings, in the notification settings. A person can opt in or out of all the alerts except the Presidential Alerts during a national emergency.
Lead Stories debunked false claims in past episodes of "Man in America," regarding election fraud claims in 2020 as well as fires at food processing plants in 2022. Lead Stories has also debunked false claims presented by Colorado-based attorney Todd Callender -- that NASA confirmed vaccinated people are no longer human, the COVID-19 vaccines contain a HIV protein and the vaccines caused vaccine-induced AIDS in the military, none of which are true.