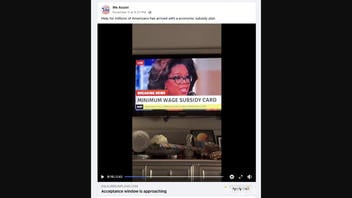 Did American TV producer and host Oprah Winfrey endorse a "minimum wage subsidy card" that helps those with hourly wages below $26 pay for gas and groceries? No, that's not true: Lead Stories found no proof of such an incentive. The video making this claim, which looked like a live broadcast, appears to have been edited.
The claim appeared in a post (archived here) on Facebook on November 5, 2023. It opened:
Help for millions of Americans has arrived with an economic subsidy plan.
It included a video that began with a fragment of what looked like an Oprah Winfrey interview in mid-sentence. The audio said:
... say that I have inspired my viewers to go and apply for the fair wage subsidy cards. These cards are for anyone making minimum wage or under $26 an hour.
A banner on the screen said:
MINIMUM WAGE SUBSIDY CARD
This is what the post looked like on Facebook at the time of writing: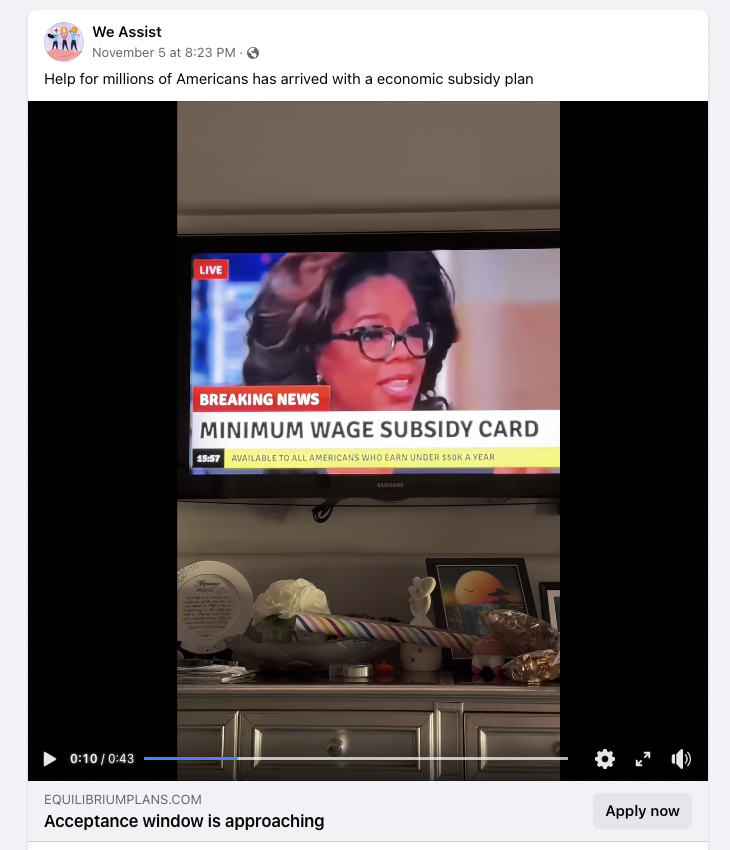 (Source: Facebook screenshot taken on Nov 17 18:39:36 2023 UTC)
The video then zoomed in on the card taken out of the male narrator's wallet: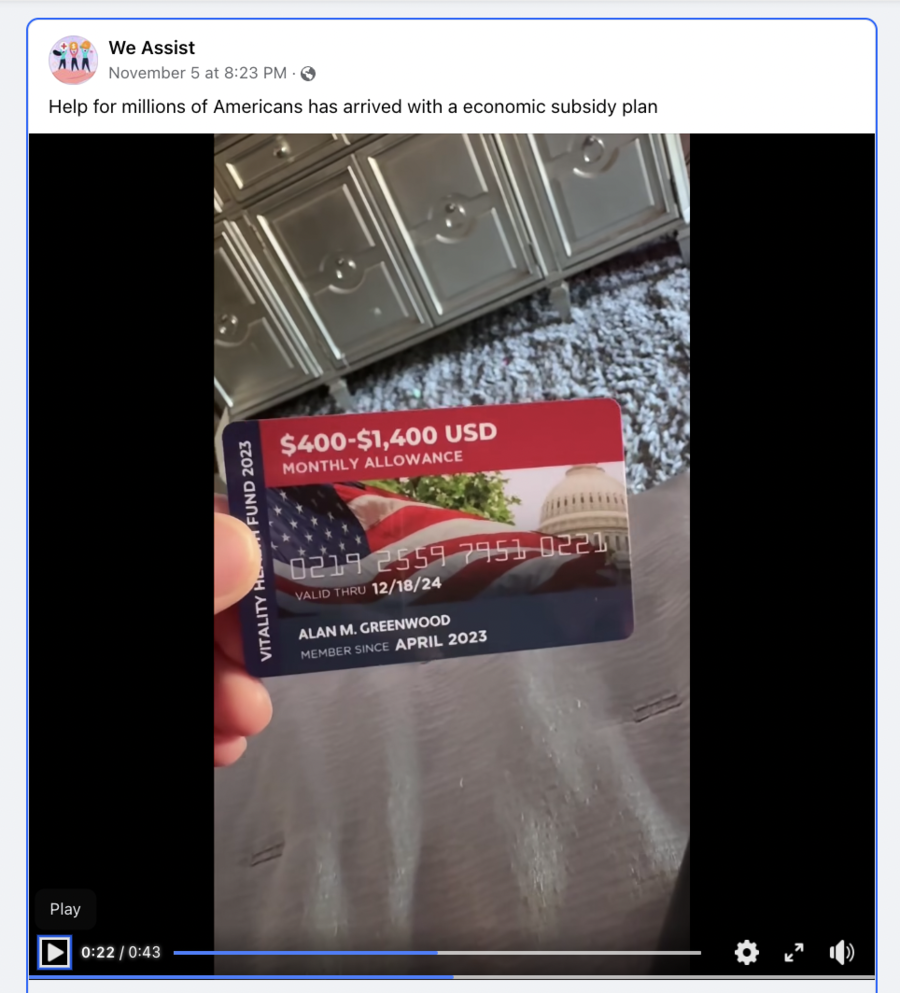 (Source: Facebook screenshot taken on Fri Nov 17 14:38:01 2023 UTC)
The man commented:
It's called a fair wage subsidy card. So basically, it's for anyone who's making minimum wage or under $26 an hour, I believe. Anyways, you just go online, apply, and you'll get it this week, and it's gonna help you pay for things like gas or groceries. So this is the exact card, this is what it looks like. If you don't have it, go get it. Most people qualify for this. So yeah, I think I'll put the website below so you guys can go and try it
A website linked in the page of the account that made the post claims that:
If you make minimum wage or under $26/hour Congress has approved a once in a lifetime fair wage subsidy card this week.
However, Lead Stories found no proof confirming that Congress has approved such a subsidy or that such a card actually exists.

Imaginary claims

A search of Congress' website shows no legislation related to a "Minimum Wage Subsidy Card."
The claim did not explicitly say who funds this supposed assistance, but strongly implied that it is a government program. For example, the video did not say "giveaway" or "bonus" -- it used such words as "minimum wage," "subsidy," "economic plan" and "millions of Americans."
The website of the U.S. Department of Labor, which enforces federal regulations for minimum wages, doesn't mention the purported program:

(Source: DoL.gov screenshot taken on Fri Nov 17 23:45:24 2023 UTC)
In fact, no government sites said anything about such a card.
A section discussing scams on the USA.gov website specifically warns about "imposters" pretending to represent "someone in authority."

A search across Google News only generated links to unrelated TikTok videos. No text sources suggest that Winfrey has ever endorsed any "Minimum Wage Subsidy Card."
Digital forensics

The left side of the card seen in the video on Facebook contained vertical text that read "Vitality He...H Fund 2023." The closest match found by Lead Stories was the Vitality Health Fund, an incentive found on the website of an entity describing itself as an international insurance company. The description of this fund said nothing about minimum wage:
The Vitality Health Fund (VHF) a fund that you can use to supplement your cover and extend your cover for specific healthcare needs. The amount you earn is linked to your Vitality status and you can earn up to $100 by getting to Platinum status.
In addition, the video's supposed voice for Oprah was out of sync with the video, which indicates that the audio was added later.
While the audio did resemble the celebrity's voice, AI software can create duplicates of the voices of public figures based on authentic samples of their voices, The Washington Post has reported.
The graphic on the screen mimicked the design of a CNN news story, but the graphics used in an authentic CNN broadcast from November 17, 2023, looked different, as seen in the righthand screenshot below:

(Source: Facebook screenshot taken on Nov 17 18:39:36 2023 UTC; photo taken by a Lead Stories reporter on Fri Nov 17 20:47 2023 UTC; composite image by Lead Stories)
Compared with the actual CNN broadcast, the video on Facebook didn't show a logo, misplaced the live banner, used a different font and a wrong color (yellow) color for the chyron, the line reserved for notifications about breaking news stories.
A newly created Facebook account with a minimum number of followers posted the "Minimum Wage Subsidy Card" video, which has gone viral.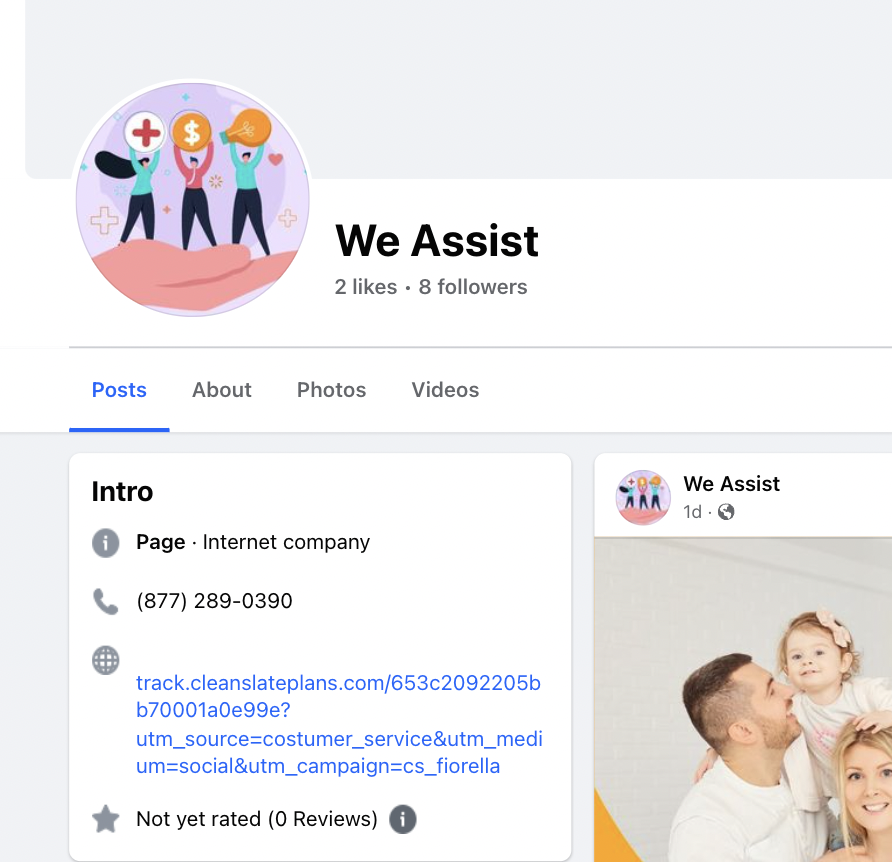 (Source: Facebook screenshot taken on Fri Nov 17 18:51:37 2023 UTC)
The website link in the Intro section of the page that posted the video led to a site that urged users to apply for this supposed card. The text indicated that the "Tap to Call Now" button would trigger Skype -- presumably for a discussion about the card: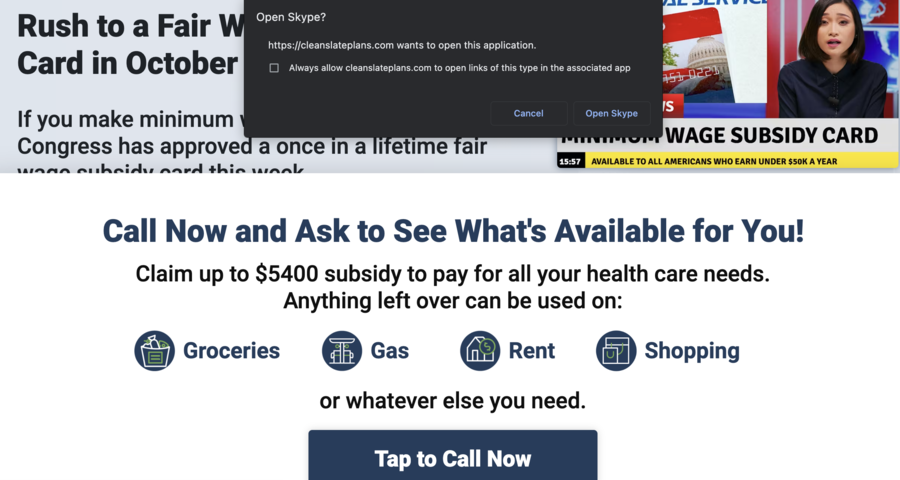 (Source: Cleanslateplans screenshot taken on Fri Nov 17 18:52:58 2023 UTC)
The Terms of Use tab led to a different website showing this disclaimer:

(Source: Archive.Today screenshot taken on Fri Nov 17 18.57:44 2023 UTC)

It is not the first time that Winfrey's name and appearance have been used to promote a shady offer. The website Oprah.com has an entire section about such scams. The website's text says in part:
Authorities have told us that there are at least a dozen scams currently being perpetrated which promise tickets, travel and money from The Oprah Winfrey Show.
Other Lead Stories fact checks mentioning Oprah Winfrey can be found here.