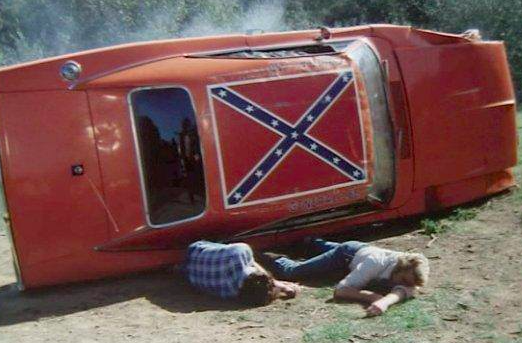 "Dukes of Hazard" star John Schneider says TV Land's decision to yank the sitcom reruns from its schedule is "an error" since it's a "beloved" show that has nothing to do with racism.
The cable net pulled the show amid controversy over the Confederate flag, which appears on top of Luke Duke's iconic car. The orange 1969 Dodge Charger is named General Lee, after the top commander of Confederate troops in the U.S. civil war.
Schneider in a YouTube video urges fans to read his comments quoted in a Hollywood Reporter story titled "'Dukes of Hazzard' Star Rips TV Land for Dropping Show: "Can't We All Just Watch TV?"
"'The Dukes of Hazzard' was and is no more a show seated in racism than 'Breaking Bad' was a show seated in reality," Schneider told THR.
The Confederate battle flag has come under scrutiny since photos emerged of alleged Charleston church shooter Dylan Roof bearing the banner.
"I am saddened that one angry and misguided individual can cause one of the most beloved television shows in the history of the medium to suddenly be seen in this light," Schneider said in THR. "Are people who grew up watching the show now suddenly racists? Will they have to go through a detox and a 12-step program to kick their Dukes habit? 'Hi... My name is John. I'm a Dukesoholic.'"
Watch John Schnieder's message to fans:
Scroll down for the hottest trending related stories collected and ranked by Lead Stories' Trendolizer (patent pending), constantly updated from social network postings worldwide. But remember: Just because it's trending, doesn't mean it's true!