Col. Marc Caughey, who until recently held a top post with the U.S. Air Force's space wing, faces military charges of rape, false imprisonment, adultery and taking a selfie photo of his exposed genitals while wearing his uniform and standing in his office.
Caughey has been removed as the vice commander of the 50th Space Wing, which is headquartered on Schriever Air Force Base in Colorado Springs, Colorado.
The charge sheet obtained by Lead Stories gives sensational details of what the colonel allegedly did, but the number of women involved and what their rank was redacted.
The rapes allegedly happened in November 2014 and January 2015 when the colonel attacked a woman, including "penetration of her vulva with his erect penis, by unlawful force, to wit: holding her against the wall and floor using physical strength or violence."
Two other incidents allegedly involved sexual griping by "touching (redacted) breast and buttocks with an intent to gratify his sexual desires, by causing bodily harm to her." Caughey also alleged false imprisoned a woman.
He is also accused of six counts of adultery by allegedly having sex with a woman who was not his wife.
The charge sheet does not say what Caughey did with the photo, but it does alleged that he did "wongfully and dishonorably hold his erect penis in his hand while in uniform and seated in his office, and proceed to take a picture of himself holding his erect penis while in uniform and seated in his office, such conduct being unbecoming of an officer and gentleman."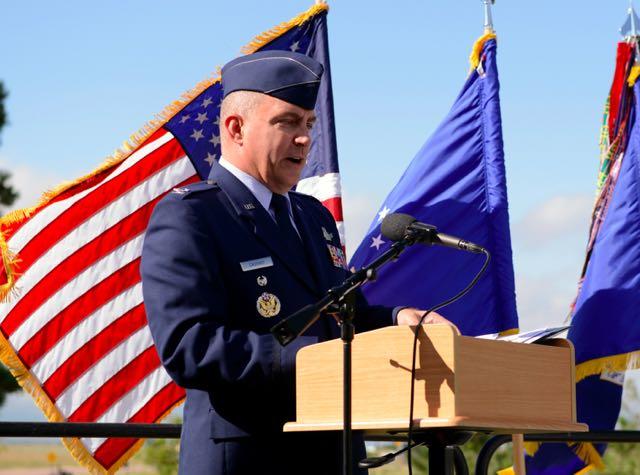 Caughey's job as vice commander of the 50th Space Wing included assisted the commander with "space and cyberspace forces and providing missile warning, positioning, navigation and timing, communications and cyber capabilities for North American Aerospace Defense Command, U.S. Strategic Command and the other functional and geographic combatant commands," according to an Air Force website.
You can download the U.S. Air Force's charge sheet against Col. Caughey by clicking here.