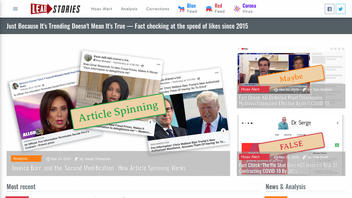 Welcome to the all-new and improved leadstories.com. After five years of the same old design, we decided it was time for a new look. We will, of course, continue to debunk and fact check the latest rumors, falsehoods and questionable memes making the rounds on the internet. But we will be doing it on a new and shiny website.
Don't worry: All of our old fact checks are still there and all old links will continue to work. But there are several important changes and improvements that we have made.
As you can see in the header, our site now has several new categories: Corrections, Blue Feed, Red Feed and Coronavirus. On mobile browsers, these are available through the hamburger menu in the top left corner.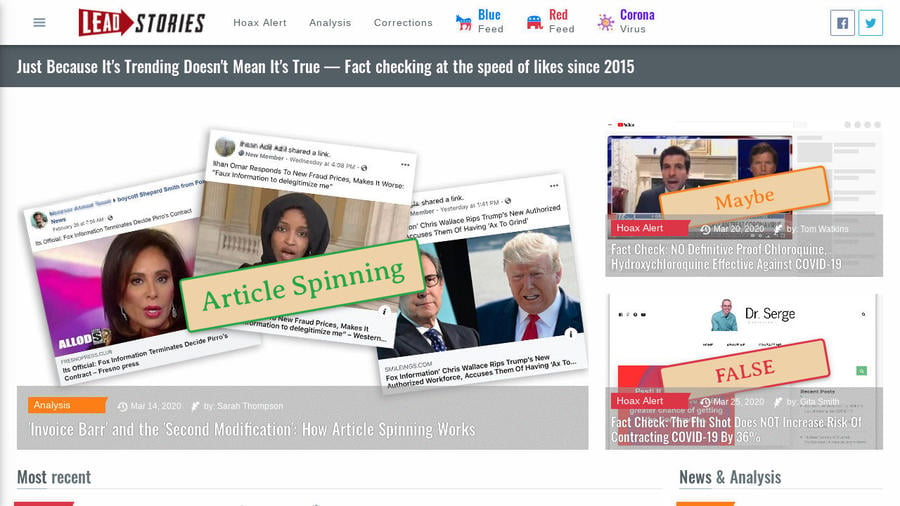 Corrections will list all articles that have been updated with new information, or ones that have been corrected in line with our Corrections Policy.
Red Feed and Blue Feed are for those readers who only want to see fact checks that align with their own views. We hope to make them curious enough to want to peek over the fence and into the other feed. Or, to just read our main feed with all of our fact checks.
Coronavirus is a new category that we created because of the exponential growth of fact checks that we did on this topic in the past month.
Note: We are still working through our archives to add old articles to the relevant new categories. This work should be completed in a few weeks.
The other big change is that we replaced our tabloid-style huge images emblazoned with big red letters with a much smaller and toned-down version. Readers were telling us this was distracting to them, and we listened to their advice.
Less noticeable, but probably just as important: we made several changes to the site to make it much faster to load and optimized it for rendering on mobile devices.
Let us know what you think of the new layout via our contact page. Bug reports are appreciated, too.