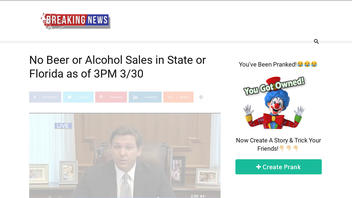 Did Florida ban the sale of beer and alcohol after 3 p.m. on March 30, 2020, as part of an emergency effort to curb the outbreak of COVID-19 in that state? No, that's not true: This came from a prank news generator website.
The story originated from an article published on channel45news.com on March 28, 2020, titled "No Beer or Alcohol Sales in State or Florida as of 3PM 3/30 - Channel 45 News" (archived here) which read under a video:
BREAKING NEWS BY GOVERNOR DESANTIS!
Users on social media only saw this title, description and thumbnail:
BREAKING NEWS BY GOVERNOR DESANTIS!
The site is part of a network of prank sites operated by Korry Scherer from Milwaukee, Wisconsin. according to data from WHOIS, an internet service that looks up information on domain names. The site lets visitors create their own realistic-looking fake news stories to prank friends, family and others.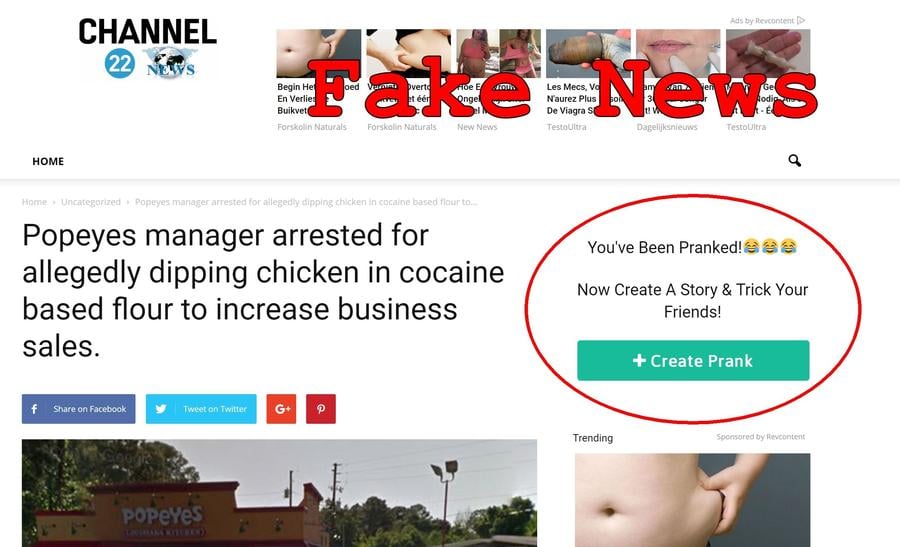 Florida Gov. Ron DeSantis did issue an executive order to close Florida's bars and nightclubs for at least 30 days, which began on March 17, 2020. But there are still many places where alcohol can be purchased in Florida. The Florida Department of Business and Professional Regulation has published a document addressing some frequently asked questions about the current regulations on take-out alcohol sales in the state.
These changes will be in effect during the state's COVID-19 public health emergency declared in the governor's executive order 20-50.

The prank news website seems to be part of a network of similar sites. So far we've found these, but there may be others:
channel22news.com
channel23news.com
channel24news.com
channel28news.com
channel33news.com
channel34news.com
channel40news.com
channel45news.com
channel46news.com
The sites all come with disclaimers at the bottom of each prank:
We do NOT support FAKE NEWS!!! This is a Prank website that is intended for Fun. Bullying, Violent Threats or posts that Violate Public Order are NOT permitted on this Website.
NewsGuard, a company that uses trained journalists to rank the reliability of websites, describes channel45news.com as:
A website that lets users make up stories and headlines that mimic real news and share them on social media.
According to NewsGuard the site does not maintain basic standards of accuracy and accountability. Read their full assessment here.


Update:
There are two versions of the "(Governor name/ State) to suspend all alcohol sales effective (Date)" prank being spread on Facebook. Each of these has multiple variations with changes to the names of the Governor and the exact date the supposed ban takes effect. States targeted in these pranks include: Alabama, Alaska, Arizona, California, Colorado,Connecticut, Florida, Georgia, Idaho, Illinois, Indiana, Kansas, Louisiana, Maryland, Massachusetts, Michigan, Missouri, Mississippi, Montana, Nebraska, Nevada, New Jersey, New York, New Mexico, North Carolina, Oklahoma, Oregon,
South Carolina, Tennessee, Texas, Utah, Virginia, and Washington, Wisconsin. There is even one featuring Boris Johnson.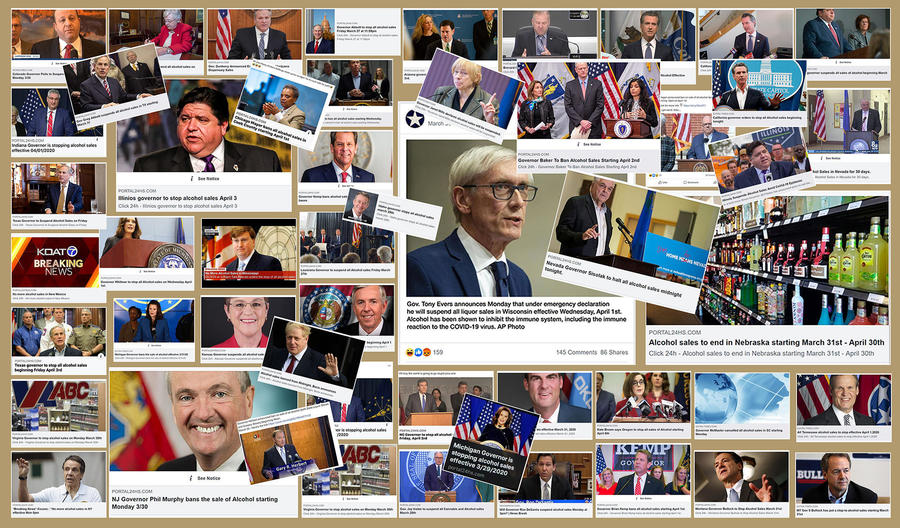 One version of this prank follows the same pattern as the Florida example outlined above, with the final link going to a prank generator website, most go to portal24hs.com or extra-times.com. Many facebook users are sharing screenshots of the front page headlines of these articles without a link to the prank generator website. The end result is that false information about a ban on alcohol sales goes out without any means for the person to discover that they have been tricked.

That could look like this: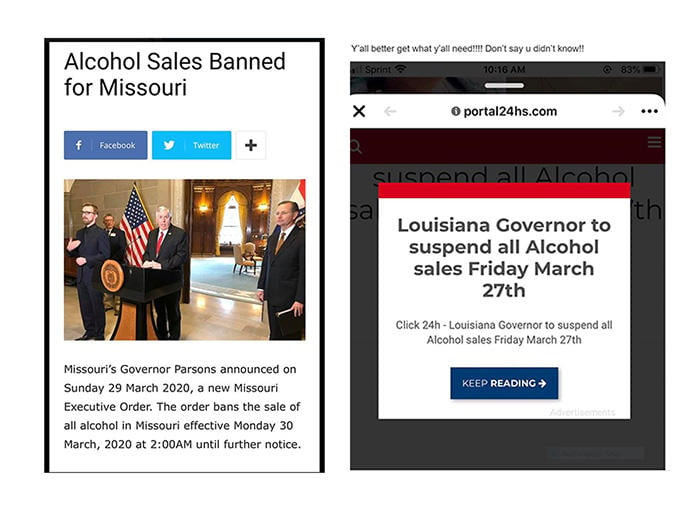 The other version has a shortened link at the bottom of the article and a prompt to "read more" The link shortening disguises YouTube as the final destination where this happens.