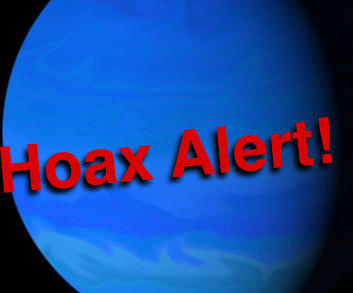 On 6 April 2016, the New York Post wrote in favor of a news item originally published by the UK tabloid The Sun, which cited "top space scientist" Daniel Whitmire as holding that a "newly discovered planet could destroy Earth any day now"
While these are real publications, they have been tempted in recent years to stretch the truth in their writing to gain traffic on social media, So readers should always beware of what to believe:
A mysterious planet that wiped out life on Earth millions of years ago could do it again, according to a top space scientist.

Planet Nine -- a new planet discovered at the edge of the solar system in January -- has triggered comet showers that bomb the Earth's surface, killing all life, says Daniel Whitmire, of the University of Louisiana. The astrophysicist says the planet has a 20,000-year orbit around the sun and, at its closest to us, it knocks asteroids and comets toward Earth.

Fossil evidence has suggested most life on Earth is mysteriously wiped out every 26 million to 27 million years.

Whitmire claims Planet Nine's passage through a rock-laden area called the Kuiper Belt is responsible for the "extinction events."
In addition, the university press release makes NO mention whatsoever of any imminent catastrophes.
Whitmire and Matese published their own estimate on the size and orbit of Planet X in their original study. They believed it would be between one and five times the mass of Earth, and about 100 times more distant from the sun, much smaller numbers than Caltech's estimates.

Matese has since retired and no longer publishes. Whitmire retired from the University of Louisiana at Lafayette in 2012 and began teaching at the University of Arkansas in 2013.

Whitmire says what's really exciting is the possibility that a distant planet may have had a significant influence on the evolution of life on Earth.

"I've been part of this story for 30 years," he said. "If there is ever a final answer I'd love to write a book about it."
Snopes.com has contacted Whitmire via e-mail to ask about the Post's claim that all life on Earth could be wiped out in April 2016, and he quickly replied: "​No truth to the story at all. That's quite impossible."
Lead Stories' Trendolizer™ is constantly scouring the web for the hottest news, viral videos and images.