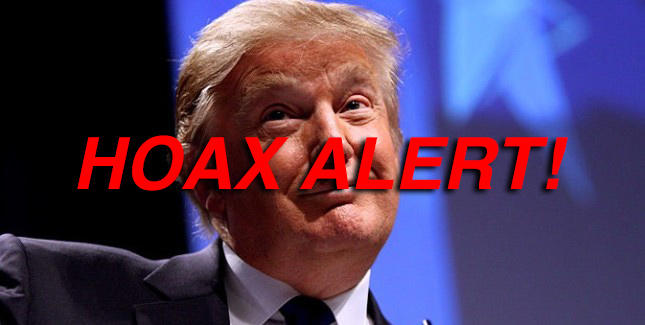 There have been so many NOT TRUE stories about Donald Trump making the rounds on the internet that this HOAX is no surprise. This current HOAX story is stating "Walt Disney World To Remove "Hall of Presidents" Attraction If Trump Is Elected President." This particular NOT TRUE story comes from a site that says it "JUST ENOUGH NEWS... Newslo is the first hybrid News/Satire platform on the web. Whenever you see #NNTS, you're reading COMPLETELY real news that only seems too absurd to be true." Obviously, that is a blatant LIE.
A small excerpt from the NOT TRUE story:
Walt Disney World in Florida will shut down the popular "Hall of Presidents" attraction if Donald Trump is elected President in November, a Disney executive said Thursday. "We'd rather just shut it down and gut the place than put up a robot of that asshat," said Jeff Tillman, Vice President of Attraction Development. "He's hateful, misogynistic, and racist, and we don't need that kind of energy in our parks, even in robot form."
Jeff Tillman is NOT listed as "Vice President of Attraction Development" of Disney World, nor is he listed as any other type of employee for the company. It is far reaching to think that Disney properties would make this kind of decision on such a major issue, yet release NO statement on any of their social media platforms. For those who aren't familiar with the "Hall of Presidents," it consists of "all 43 U.S. Presidents on stage in a patriotic, Audio-Animatronics show tracing the history of the United States."
Don't believe the hype because this is a 100% NOT TRUE story.
Follow us on Facebook and Twitter @LeadStoriesCom for your daily news.