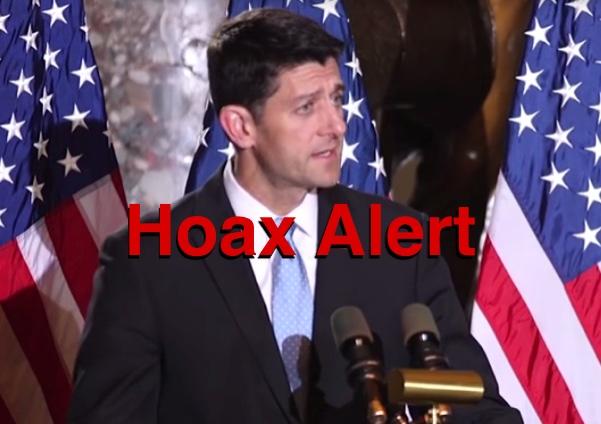 Despite speaker Paul Ryan's (R-WI) recent admittance to CNN's Jake Tapper that he can't support Donald Trump, reports that he is now backing Hillary Clinton are completely FALSE.
Known hoax/satire website freewoodpost.com published an UNTRUE article claiming that house Speaker Paul Ryan has pledged his support to Democratic frontrunner Hillary Clinton. There is no truth to this story. The deceitful article claims that Ryan admitted in a phone interview to freewoodpost.com the following :

"I was holding hope that Kasich, or even Cruz, as much as I can't stand him, would get enough delegates to force a brokered convention. However, it just doesn't look that way anymore, and now that everyone is out with only Trump left, I'm left with only one option -- Hillary Clinton. And while some will say I'm crazy, or flip-flopping or whatever, I need to do what's best for the nation, and that's uniting against Trump and for Hillary Clinton who has the best chance at actually beating him. Sometimes you just have to suck up your ego and go forward with your chin up. I couldn't live with myself if I supported and voted for Trump. He lacks any and all required experience, and he makes even the racists of the GOP look PC in comparison. So, come this November, I'll be voting for Hillary Clinton."
Ryan has made it extremely clear in recent days that he will not be backing Hillary under any circumstance. The speaker recently announcned his nonendorsement of Donald Trump, but made clear that he does not mean he is supporting Democratic presidential frontrunner Hillary Clinton.
"No Republican should ever consider supporting Hillary Clinton. Let me make that clear," Ryan said.
Again, Paul Ryan HAS NOT announced his backing of Hillary.
Follow us on Facebook and Twitter @LeadStoriesCom for your daily news.