Fake/satire website Newslo posted an article on january 29th 2017 claiming senior Trump advisor Kellyanne Conway said that "Racism Is A Small Price To Pay For Being Great Again".
The article opens like this:
Trump senior adviser Kellyanne Conway on Sunday said that mayhem caused by an executive order barring travelers from select Muslim countries was a "small price to pay" for the safety of Americans. During an interview on Fox News, host Chris Wallace asked Conway if the administration had made a mistake by failing to think through the chaos that would be caused by Trump's executive order, which triggered the detention of permanent U.S. legal residents at airports across the country.
That much is factual, as can be verified via the transcript from FoxNews.
But most of the rest of the article, including this final made-up Conway quote, is fake:
So, you want to call him racist? Well, here's what I say to that: being labeled a racist is a small price to pay for being great again, for making this entire country great again. Because, once the storm blows over, the war drums stop beating and the guns go back into their holsters, only then will we have the final tally. And only then will the people of this country realize that Donald Trump is working for them and not against them. True - some people will know that more than others - most notably white, Christian people, but nevertheless - that will be the state of things. And everybody will be ashamed for not having held their tongues,
How do we know this? For starters, the article has buttons to show or hide the facts, and clicking the 'show facts' button only lights up the first part of the article.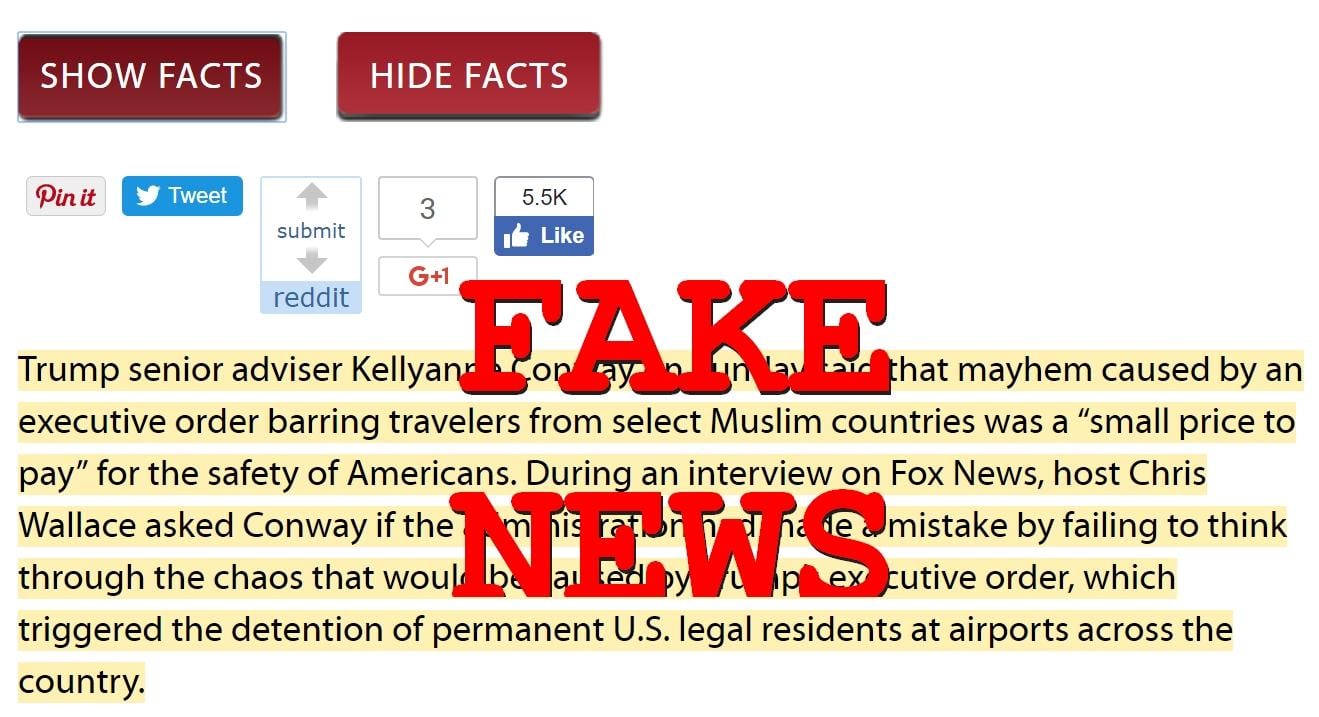 Combine that with Newslo's disclaimer, which reads:
JUST ENOUGH NEWS... Newslo is the first hybrid News/Satire platform on the web. Readers come to us for a unique brand of entertainment and information that is enhanced by features like our fact-button, which allows readers to find what is fact and what is satire.

Newslo's "No Need to Satirize" brings you completely factual stories that are so ridiculous, they don't need our trademark touch. Whenever you see #NNTS, you're reading COMPLETELY real news that only seems too absurd to be true.
And you can be pretty sure this is fake news. But that didn't stop the story from going viral as this Trendolizer graph shows: