It's been a while but satirical fake news site The Resistance: The Last Line of Defense has published another death hoax and this time it is titled: "BREAKING: Scott Baio Killed In Small Plane Crash On His Way To Mar-A-Lago". The hoax starts like this:
Chachi can now apologize to Joannie for being so rude. Scott Baio, 56, was killed when the single-engine Cessna he was in crashed into the side of a hill in Louisiana. Baio was headed to Mar-A-Lago to barbecue shrimp and play gold with President Trump.

Baio's wife, Raylene, wasn't on the plane but was checked into St Timothy's on a suicide watch after the news sent her into a breakdown. Spokesmen for several actors who wouldn't be caught dead in a film with Baio said that he was "really special as Chachi" and he "sure did do a nice job with Charles in Charge."
The image of the crashed plane used with the article comes from a report about a 2015 crash near Bartlett.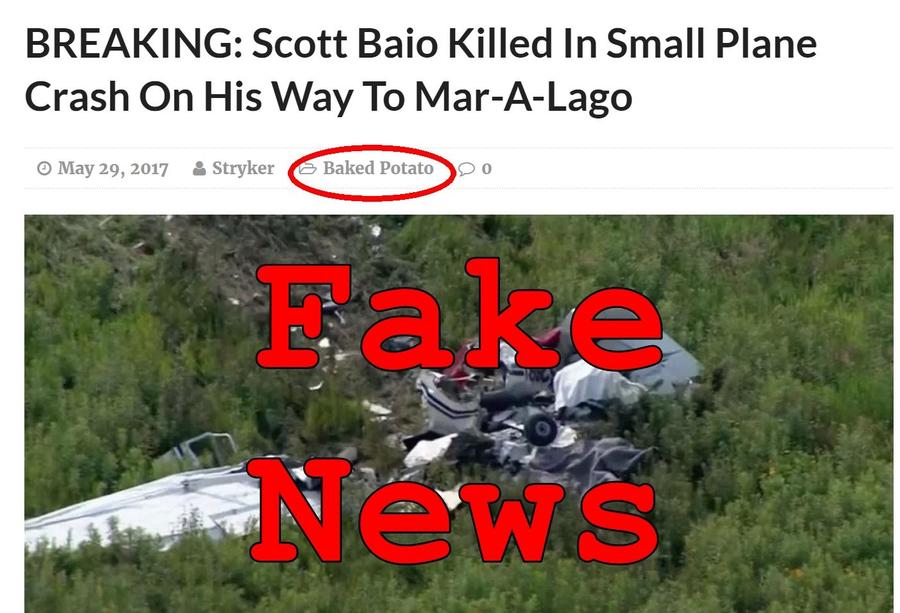 Earlier this The Resistance: The Last Line of Defense ran death hoaxes about Clint Eastwood and Ted Nugent. Very often the site then follows up the initial death hoax with further reports about the death being the result of homicide with the culprits usually coming from circles around Hillary Clinton. The site doesn't fail to dissapoint because like clockwork a second article was posted a short while later titled: "REPORT: Scott Baio's Plane Crash Not An Accident-Men Speaking 'With Accents' Heard On Flight Recorder". It wouldn't surprise us in the least if a third article were to follow that links the 'terrorists' with circles around Hillary Clinton as this is a common thread in the death hoaxes posted to the site.
The Resistance: The Last Line of Defense is a fake news website that carries following disclaimer on its about page:
DISCLAIMER: The Resistance may include information from sources that may or may not be reliable and facts that don't necessarily exist. All articles should be considered satirical and any and all quotes attributed to actual people complete and total baloney. Pictures that represent actual people should be considered altered and not in any way real.
The site also tends to include nonsensical phrases or insults hints in the list of "categories" under the article titles:

According to Buzzfeed the site was originally meant to troll conservatives with over the top satirical articles but now appears to be used as a 'source' by a large network of actual fake news sites (not related to the original creator) that all repost the same articles mentioning it as the source but not acknowlediging the satire disclaimer. This causes many people to believe the fake stories especially when they are being shared on social media where all context is removed and only the title, image and description remain.
As you can see in the Trendolizer graph at the end of this article the death hoax is starting to pick up speed and it will probably be copied by several other fake news websites in short order. If you notice anyone spreading the rumor around you can help by pointing them to this article here because nobody likes hearing Chachi died and then finding out it is fake news.