Fake news website World News Daily Report came out with another hoax titled: "Terrorist who hid grenades in anus dies of internal bleeding at Iraqi airport". Nothing in the story is true. The gist of the article is in the opening paragraphs:
Baghdad | An Iraqi terrorist who tried to smuggle two grenades in his backside at Baghdad International Airport was apprehended and left to die from his wounds 2 km outside of the airport reports the Iraqi Times.

The terrorist warned airport authorities himself claiming he was in agonizing pain after he had hidden two grenades in his rectum and had planned to blow up a plane.

An Iraqi bomb squad rapidly evacuated the man in the back of a pickup truck and brought him 2 km outside of the airport, in the middle of the desert, and out of "harm's way" declared officials.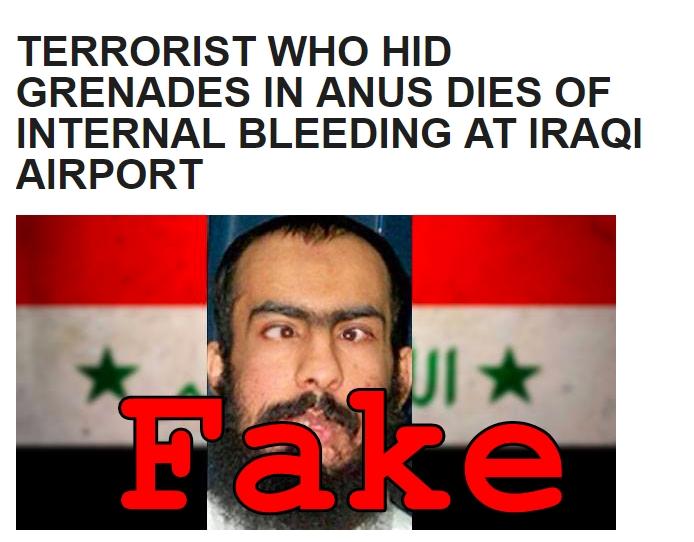 First of all, there is no newspaper or website named "Iraqi Times" so the source is suspect. Secondly, the man in the picture is actually Abdulaziz al-Toaili'e, a mentally ill terrorist who was executed in Saudi Arabia.
Finally, World News Daily Report is a well known hoax website specialized in posting hoaxes and made up stories. The disclaimer on their website is pretty clear about that even though you have to scroll all the way down the page to find it:
WNDR assumes however all responsibility for the satirical nature of its articles and for the fictional nature of their content. All characters appearing in the articles in this website - even those based on real people - are entirely fictional and any resemblance between them and any persons, living, dead, or undead is purely a miracle.
Many people nonetheles shared the story anyway as the Trendolizer graph at the end of this article shows. While we personally don't mind hearing news about dead terrorists, we prefer our news to be real and not fake. If you are of the same opinion, don't hesitate to share this article with your friends who may have fallen for the original hoax.