Fake/partisan website Red News Here published an article titled "Parents Jump From 17-Story Building As A Result Of Obamacare Failure". It opens:
A New York City couple in their 50s jumped out of a 17-storey building together in despair. The reason behind their will to take their lives is the inability to afford their health care. The most chilling fact behind the whole story is that they left children behind in the apartment, as well as a simple suicide note.

The incident happened early Friday morning on the corner of Madison Avenue and 33rd Street - just a block from the Empire State Building. A 53-year-old chiropractor and his 50-year-old wife jumped out of a window of their recently-closed ninth-floor office in the 17-storey building.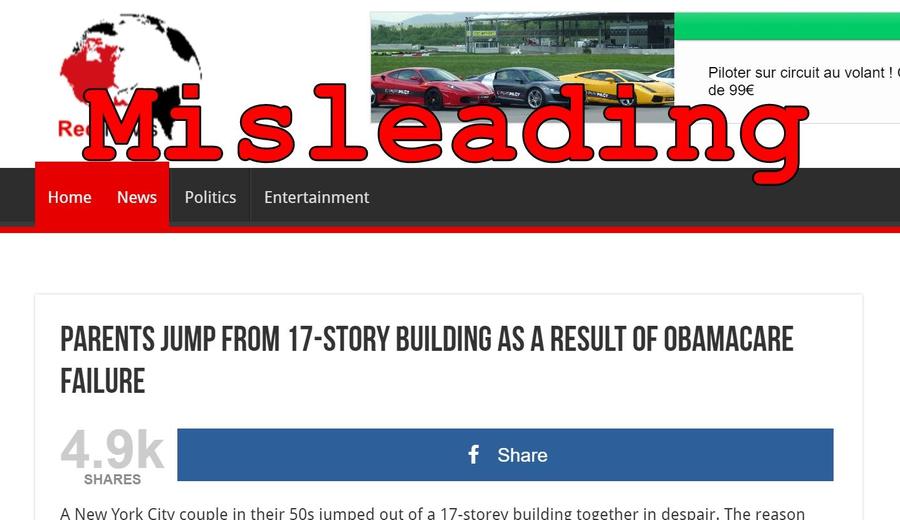 Unfortunately the part about a couple jumping off a building and leaving behind children is true. But they are not anonymous, like the story claims. Their names were Glenn Scarpelli and Patricia Colant as reported by the NY Post. The story in the NY Post also mentioned the suicide note:
"WE HAD A WONDERFUL LIFE." It was typed on a piece of white paper.

His wife also had a suicide note in her pocket that read, "in sum and substance," according to a source, "'Our kids are upstairs, please take care of them.'"

"Patricia and I had everything in life," the man's note read. But it also touched on the couple's "financial spiral" and how "we can not live with" the "financial reality," sources said.

A law enforcement source at the scene told The Post that authorities at first believed that the couple struggled with health care costs. But an NYPD spokesman said later that there was no mention of medical-cost struggles in the notes.
The Daily Mail (and other news outlets) also reported that:
Public records showed that Glenn owed about $213,000 to the federal government and nearly $42,000 to the state in unpaid taxes dating back to 2003.
So the part about this act of desperation being a result of "Obamacare failure" is definitely stretching the truth here and seems more like a distasteful attempt to use a deeply tragic event for scoring political points. As you can see in the Trendolizer graph at the end of this article it seems to be working though, with hundreds of people sharing this flawed version of the events. If you notice anyone using this story to drum up political support, send them this article instead...