A hyperpartisan website named Proud Patriots posted an article titled "Jay Leno Just Risked Entire Career To Expose TRUTH About President Trump". It opens like this:
Liberal reporters can't spend a day without bashing President Donald Trump. Hollywood celebrities use every opportunity they have to mock the President and his family. But, Leno is here to teach liberals a big lesson.

Jay Leno is tired of the liberal nonsense. He can't stand the anti-Trump resistance, and let's be honest, liberals have already crossed the red line.

Leno says that the Trump bashing should be brought to an end. He said that if he was still a late night host, liberals won't have that many opportunities to mock the President. In a recent interview, Jay Leno said that if he were still a late night host, there would be less Trump bashing. "I enjoy bringing people together. If [mocking the president] is a constant thing on a nightly basis, eventually you're all doing the same joke," Leno said.
The article continues but nowhere in it is there any mention of a 'truth' about President Trump that gets exposed. Also at age 67 Leno's career already is largely past him so it is improbable that anything he says or does could still hurt it.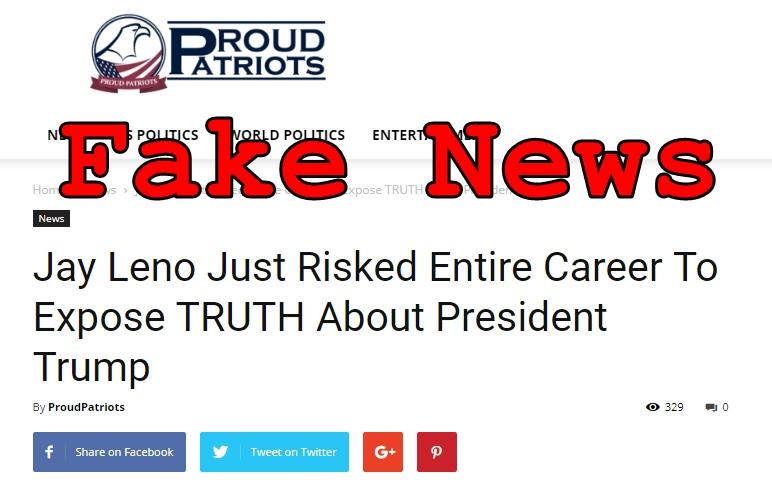 The story seems to draw most of its direct quotes from this short Page Six interview. But it selectively quotes only a part of the first sentence:
Jay Leno would do some Trump-bashing if he were still hosting "The Tonight Show," but not as much as today's late-night hosts.
And the last sentence, with a direct Leno quote, also seems relevant:
"I remember when 'House of Cards' was a TV show. Now it's a documentary. You look at the Underwoods. You go, 'At least this isn't as bad as the real thing.'
So, in a nutshell, almost everything in the Proud Patriots story is false, fake or misleading:
Leno is not against "Trump bashing" and would even do some himself if he were still a late night host.
Leno did not risk his entire career
Leno did not expose any special "truth" about President Trump
The only vaguely true thing is that Leno seems to be tired of an overabundance of Trump jokes being made at the expense of humor about other things.
It looks like the story was mainly intended to rile people up so they would like and share it without thinking or checking any sources, allowing the writers to profit via the advertising on the page. And it seems to be working as you can see in the Trendolizer graph at the end of this article. Don't fall for it!