As of a few hours ago all links to articles on the notorious fake news website yournewswire.com seem to be getting redirected to newspunch.com. The move has not been officially announced on the site as far as we can tell. It seems likely the move is an effort to dodge various fake news filters on social media and in search engines by swapping a 'burned' domain name for a (pre-aged) untainted one.
If you search Google for "yournewswire.com" several of the top results indicate the site is fake news (having your own dedicated category on Snopes.com is a dead giveaway):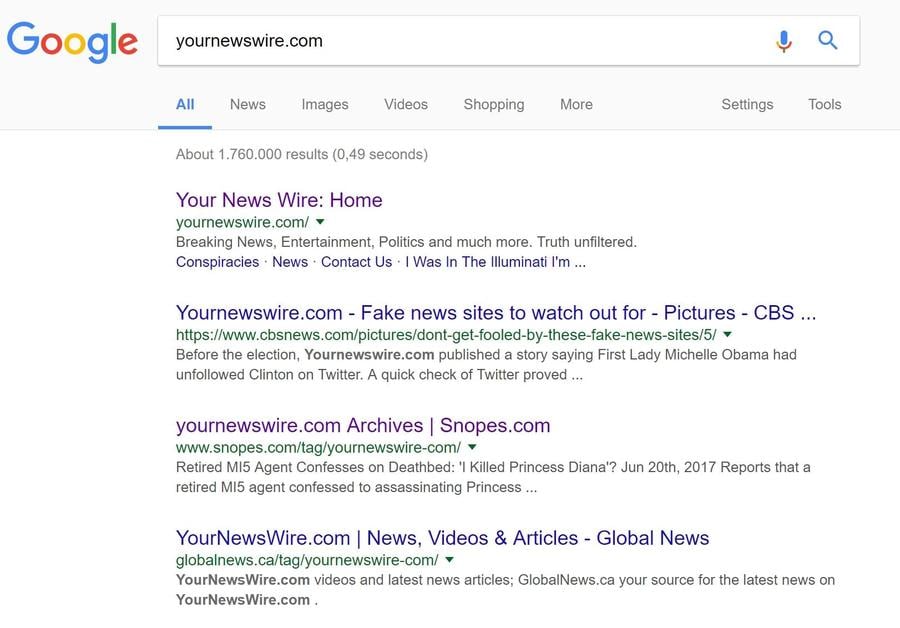 A search for "newspunch.com" on the other hand does not yield any such results yet (although we suspect this article will soon appear there).
According to WHOIS information newspunch.com was originally registered in 2004:
DOMAIN INFORMATION
Domain:newspunch.com
Registrar:Network Solutions, LLC.
Registration Date:2004-10-22
Expiration Date:2019-10-22
Updated Date:2017-08-14

...

REGISTRANT CONTACT
Name:PERFECT PRIVACY, LLC
Street:12808 Gran Bay Parkway West
It appears the site was already active in 2003 though according to the Wayback Machine, which lists several snapshots in that year. A more recent snapshot shows the domain was for sale until recently. It seems from the WHOIS data that the sale took place on or around August 14th 2017.
For completeness, this is the WHOIS information on yournewswire.com:
DOMAIN INFORMATION
Domain:yournewswire.com
Registrar:GODADDY.COM, LLC
Registration Date:2014-08-04
Expiration Date:2018-08-04
Updated Date:2016-08-26
Status:ok
Name Servers:ns-1355.awsdns-41.org
ns-1931.awsdns-49.co.uk
ns-275.awsdns-34.com
ns-886.awsdns-46.net
REGISTRANT CONTACT
Name:Sean Adl-Tabatabai
Organization:The People's Voice, Inc.
So in addition to getting a new 'clean' domain name the site also seems to have taken the opportunity to use a private DNS registration service to avoid having the name of the actual person and organisation in the DNS record.
Lead Stories can also confirm that both yournewswire.com and newspunch.com are using the same Google Analytics ID ("UA-53594309") and Adsense advertiser ID ("ca-pub-7714649074404303") in addition to the same IP address ("52.27.81.217").
So if you see any news article on NewsPunch you should probably treat it with the same scepticism as if you found it on YourNewsWire...