Fake news website ActionNews3 posted a death hoax article on or about August 18th 2017 about Rob Kardashian titled "ROB KARDASHIAN DEAD AT AGE 30: HANGS HIMSELF IN CALABASAS, CALIFORNIA HOME". It opened:
Rob Kardashian allegedly hanged himself from the ceiling fan at his home $2.3 million home in Calabasas, California this morning. Before committing suicide, he allegedly sent a WhatsApp message to his friends and family.

Suicide note

A suicide note was recovered by the police. Rob Kardashian, who was recently in the news over a sex video scandal concerning his ex-fiancé, wrote in the note that he "couldn't handle the depression of his life anymore." Rob went on to write about his ex-fiancé Blac Chyna and the embarrassment she brought into his life, describing it as "extremely insulting."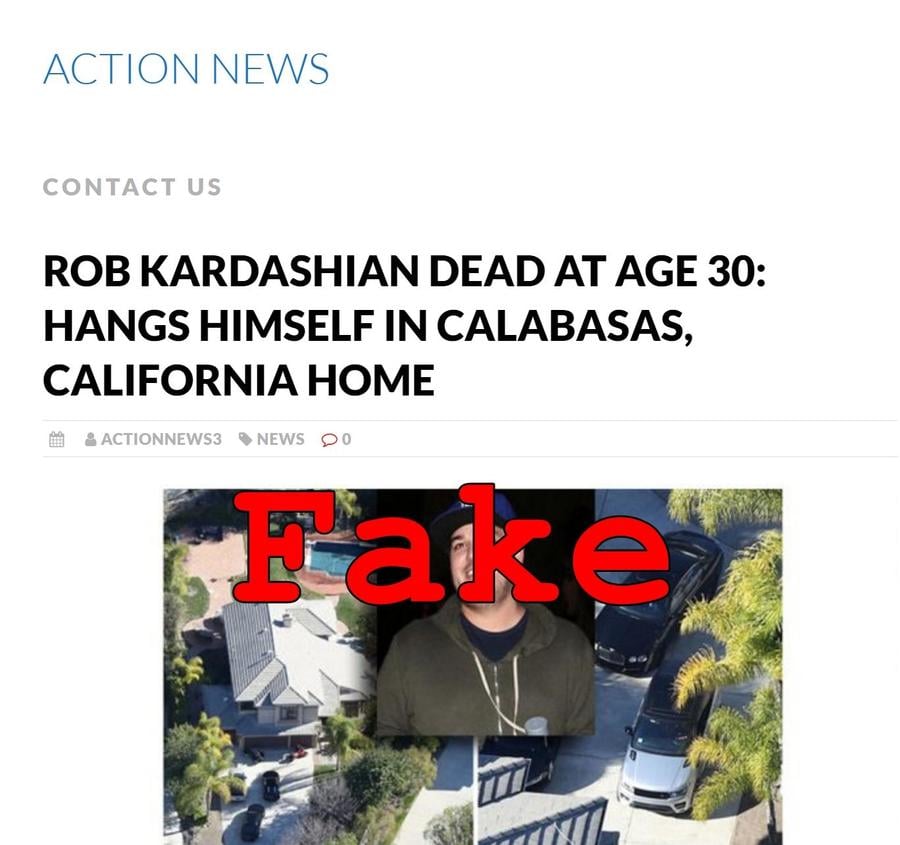 The entire article is not true. No other media outlets have reported on the story and Rob Kardashian's Twitter account has been active days after the supposed suicide.
Don't miss out on the 50% off @arthurgeorge summer sale!! Ends soon! Shop here: https://t.co/SlZgDg0Wll pic.twitter.com/wNolDBNPv6

-- ROBERT KARDASHIAN (@robkardashian) August 21, 2017
ActionNews3 is a fake news website that is part of a network of similar sites posting false stories all hosted on the same IP address (67.227.229.104). Notorious hoax sites in the network seem to include:
actionnews3.com
news4ktla.com
now8news.com
theracketreport.com
Don't fall for this hoax and warn others if you see them spreading it on social media!