Known fake news website Free Inquirer published an article titled "Florida man who shot at Hurricane Irma dies after bullet ricochets". It opened:
A 47-year old man from Polk County, Florida, has been confirmed as one of the first fatalities of Hurricane Irma after he ignored warnings and fired a weapon into the storm.

According to a source who responded to the scene in Lakeland the 47-year old is believed to have fired a large calibre weapon earlier this afternoon; however, the bullet ricocheted and ended up entering the man's head. It's believed he died instantly.

The incident comes after a Facebook event titled "Shoot At Hurricane Irma" received 54,000 replies of interest from Florida residents. While the majority of them appear to have heeded the warnings not to actually shoot at the hurricane, the 47-year old Lakeland man who remains to be formally named was not among them.

The sheriff of Pasco County took to social media to issue a clear warning to residents that shooting into the hurricane could be deadly. "To clarify, DO NOT shoot weapons @ #Irma. You won't make it turn around & it will have very dangerous side effects,."
The event "Shoot At Hurricane Irma" (archived here) actually existed on Facebook and the Pasco Sherrif's twitter account did indeed warn residents shooting at the hurricane could be dangerous:
To clarify, DO NOT shoot weapons @ #Irma. You won't make it turn around & it will have very dangerous side effectshttps://t.co/CV4Y9OJknv

-- Pasco Sheriff (@PascoSheriff) September 10, 2017
But we were unable to confirm the news about the death and no local media are reporting on the news. But we strongly suspect it didn't happen (also because no name was given for the victim).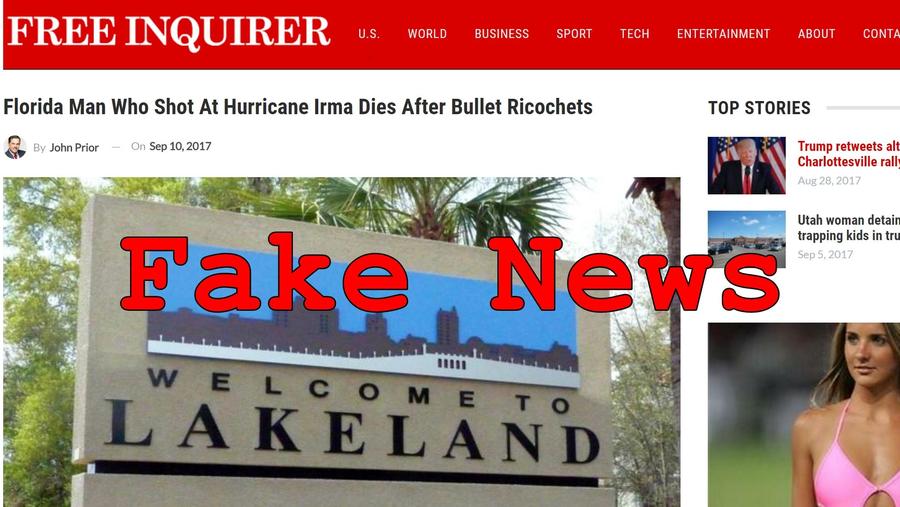 The website Free Inquirer is part of a network of sites designed to look like local news outlets with generic-looking front pages. Away from the front page these sites publish one fake story after another. Often the stories are nearly identical with some details changed: locations, names, ages... Examples include the "longest penis in the world story", the "stuck fidget spinner story" or the "tainted buffet at the strip club story". The fake articles often use an image of a city name sign as their primary illustration.
The sites are either promoted via the same Facebook pages or carry advertisements linked to the same advertiser accounts on various ad networks.
Sites in the network include:
jacksontelegraph.com
sundayinquirer.com
sundaypost.org
vancouverinquirer.com
www.countyweekly.com
www.freeinquirer.com
alabamaobserver.com
denverinquirer.com
mississippiherald.com
www.albertatimes.com
www.borderherald.com
www.bostonleader.com
www.cairnstimes.com
www.floridasunpost.com
www.focustimes.org
www.foreignjournal.com
www.longarticles.com
www.pressunion.org
www.sundayregister.com
www.telegraphsun.com
www.unitednews.org
www.weekendherald.com
(Some of these sites are now defunct)
So we would be highly sceptical about anything they publish. Don't fall for it!