STORY UPDATED: check for updates below.
Known fake news website Sunday Post published an article titled "Monroe Woman Dies In Cinema While Watching IT Remake". It opened:
A 41-year-old woman died in a Monroe cinema auditorium Friday while watching a screening of Stephen Kings horror movie remake, IT.

The incident occurred at the Cinemark Cinema in Monroe, a town in the Ouachita parish, Louisiana. The cinema-goer attended the new release screening with friends and had complained of chest pains and difficulty breathing during one the film's climax scenes. According to witnesses, the woman let out a large scream and then collapsed in her seat.

The woman's friends called EMTs however by the time they arrived the woman was unresponsive and died at the scene.
We were unable to confirm the events described in the article actually happened. There is a Cinemark cinema in Monroe, Lousiana but we were unable to find any reliable news outlet that reported on the death. There is also no name given for the victim. And we have reasons to believe the Sunday Post can't be trusted.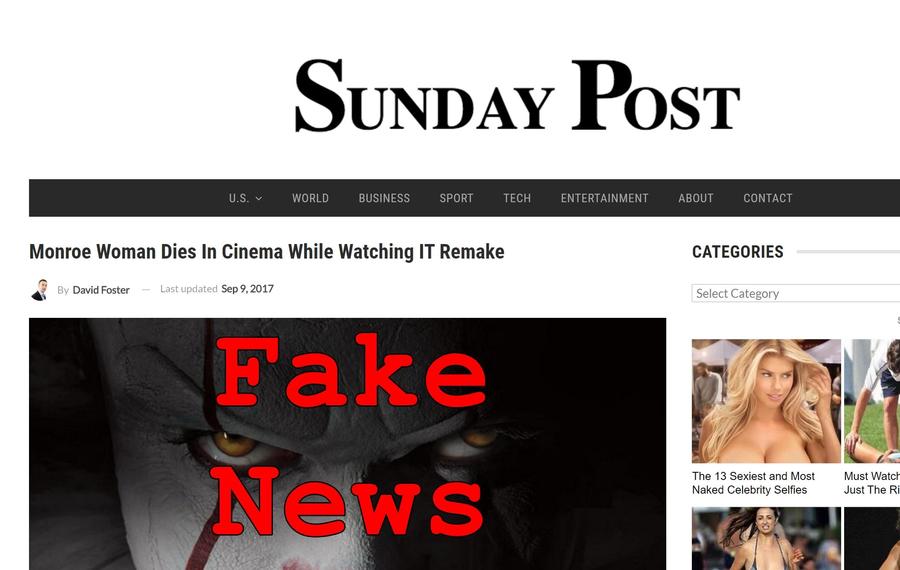 The website Sunday Post is part of a network of sites designed to look like local news outlets with generic-looking front pages. Away from the front page these sites publish one fake story after another. Often the stories are nearly identical with some details changed: locations, names, ages... Examples include the "longest penis in the world story", the "stuck fidget spinner story" or the "tainted buffet at the strip club story". The sites are either promoted via the same Facebook pages or carry advertisements linked to the same advertiser accounts on various ad networks.
Sites in the network include:
jacksontelegraph.com
sundayinquirer.com
sundaypost.org
vancouverinquirer.com
www.countyweekly.com
www.freeinquirer.com
alabamaobserver.com
denverinquirer.com
mississippiherald.com
www.albertatimes.com
www.borderherald.com
www.bostonleader.com
www.cairnstimes.com
www.floridasunpost.com
www.focustimes.org
www.foreignjournal.com
www.longarticles.com
www.pressunion.org
www.sundayregister.com
www.telegraphsun.com
www.unitednews.org
www.weekendherald.com
(Some of these sites are now defunct)
We suspect there will soon be a plethora of other stories following the same template: Man/Woman died in cinema while watching IT remake, in (local city), aged (x). We'll update this post if that happens. In the mean time we suggest you don't believe a word the Sunday Post writes...