STORY UPDATED: check for updates below.
Note: David Cassidy passed away on November 22nd 2017, see the update below this article.
Fake news website city-herald.com published an article on November 19th 2017 (archived here) titled "BREAKING: David Cassidy dies of organ failure after brief hospitalization aged 67". The story opened:
Pop star David Cassidy has died in Florida after suffering from organ failure, according to his publicist.
The 67-year-old David Cassidy was previously admitted and stricken with dementia, and his health further deteriorated over the last two months. His publicist, JoAnn Geffen confirmed his passing Saturday evening; noting, "It is with deepest sorrow that I inform you of the death of David Cassidy."
The story is nonsense, as far as the dying part is concerned. The BBC did report Cassidy is in hospital after suffering from multiple organ failure but he is reportedly conscious and awaiting a liver transplant:
Former The Partridge Family star and singer David Cassidy, 67, is ill in hospital but is reported to be conscious, after suffering multiple organ failure earlier this week.
A spokeswoman said he was admitted to hospital in Fort Lauderdale on Wednesday after suffering pain.
He is reportedly suffering kidney failure and needs a liver transplant.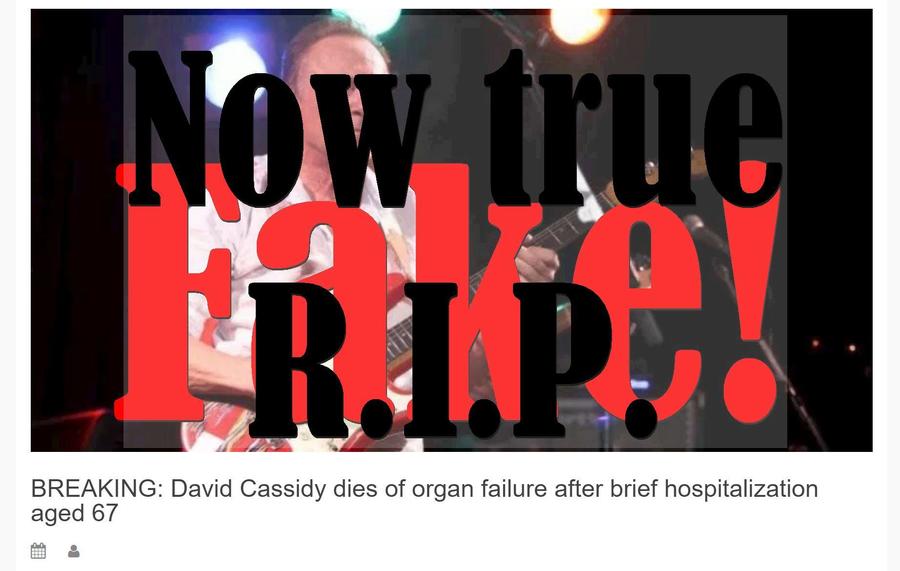 The website city-herald.com is part of a network of fake news websites designed to look like 'local' news sites with generic news stories (mostly taken from other sites) on their front pages while the fake stories are hidden deeper inside the website and can only be accessed through the search function or via a direct link.
The site shares a Facebook App ID with florida-times.com and texas-express.com, two other sites in the network that have just perpetrated another death hoax involving Charles Manson. Previously city-herald.com used to be known as parliaments.eu, a site linked to numerous other fake news websites. The new name was registered in May 2017). Another fake site in the network which shares an MGID advertising account with florida-times.com is houstonchronicle-tv.com which was involved in publishing several other fake news stories earlier this year (and which has nothing to do with the legitimate news website houstonchronicle.com to be clear).
As with any news about celebrities dying, always check a trustworthy site before passing on the news on social media and make sure it didn't originate on a site which has only just been registered recently.
2017-11-22T08:20:02Z

2017-11-22T08:20:02Z

Unfortunately David Cassidy has passed away for real on November 22nd 2017, as the

BBC reports

:

US actor and singer David Cassidy, who found fame in The Partridge Family before going on to become a 1970s teen pop idol, has died aged 67. "David died surrounded by those he loved, with joy in his heart and free from the pain that had gripped him for so long," a family statement said. He was admitted to hospital last week after suffering multiple organ failure.

2017-11-19T22:05:00Z

2017-11-19T22:05:00Z

Another version

of the story is also going viral via a site named "The Wire Republic Blog". This seems to be a site hosted on the wordpress.com blogging service with just a few articles posted so far. Their about page reads:

About This is an example of an about page. Unlike posts, pages are better suited for more timeless content that you want to be easily accessible, like your About or Contact information.

Truly the mark of a trustworthy news source...