STORY UPDATED: check for updates below.
Note: The news is no longer fake, Manson has now actually died on November 20th 2017.
Two websites named florida-times.com and texas-express.com published identical stories last week titled "BREAKING: Convicted mass murderer Charles Manson dies aged 83" (archived here and here). Both stories opened:
Infamous serial killer Charles Manson has died after a brief hospitalization, authorities say. He died Thursday in a hospital in Bakersfield, California.
A spokeswoman for the California Department of Corrections and Rehabilitation confirmed news of Manson's passing, assuring the press her outfit will very soon put out an official statement on his passing.
The head of the Manson Family was found guilty in 1971 of orchestrating the murders of seven people, including actress Sharon Tate. He was reported to have sought to start a 'race war', which he dubbed 'Helter Skelter' after The Beatles' song of the same name.
Manson was sentenced to death, a sentence which was later amended to life imprisonment in Corcoran State Prison after California discontinued the death penalty.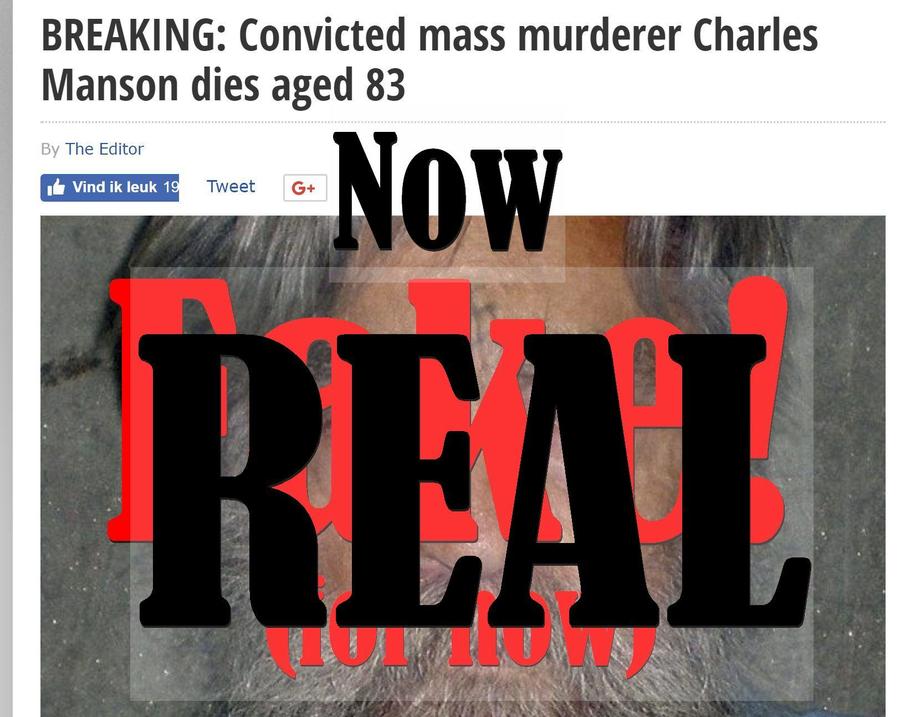 No other mainstream news sources have confirmed the news. In fact, the LA Times reported on Friday that Manson was still alive even though he had been hospitalized:

Mass murderer Charles Manson remained alive Friday, authorities said, but details of the illness that brought him to a Bakersfield hospital remain unclear.
Vicky Waters, a spokeswoman with the California Department of Corrections and Rehabilitation, said only that Manson was still living and that the department could not provide any further details.
Kern County Sheriff's Lt. Bill Smallwood told The Times earlier this week that Manson was at a local hospital.
In January, Manson, 83, was rushed to Mercy Hospital in Bakersfield for what authorities at the time would describe only as a serious medical problem. He was returned to prison a few days later.
The two sites reporting on his passing appear to be part of a network of fake news websites designed to look like 'local' news sites with generic news stories (mostly taken from other sites) on their front pages while the fake stories are hidden deeper inside the website and can only be accessed through the search function or via a direct link.
The domain name for texas-express.com seems to have been registered in september while florida-times.com only exists since october of this year. Both sites seem to share a Facebook App ID with parliaments.eu, a site linked to numerous other fake news websites which now seems to redirect to the domain name city-herald.com (which was registered in May 2017).
At the moment of publication the CDCR Inmate Locator is still listing Manson as incarcerated in California State Prison, Corcoran while stating that the information is "current as of 11/19/2017".
This has not been the first time Charles Manson has been the subject of an internet death hoax, we know of at least two other times when this happened. So any time you see a report announcing his death you should probably be extra careful before liking/sharing it. Always check some mainstream news sources first: they will be much more likely to have received news about it from official sources, certainly as opposed to some unknown website that was launched a month ago. Don't get fooled!
2017-11-20T06:59:03Z

2017-11-20T06:59:03Z

Although the earlier stories were all premature and fake, The New York Times

announced

on November 20th 2017 that Charles Manson has now died:

Charles Manson, one of the most notorious murderers of the 20th century, who was very likely the most culturally persistent and perhaps also the most inscrutable, died on Sunday in Kern County, Calif. He was 83 and had been behind bars for most of his life. He died of natural causes in a hospital, the California Department of Corrections and Rehabilitation said in a news release.

2017-11-19T10:37:20Z

2017-11-19T10:37:20Z

The site florida-times.com also appears to be related to houstonchronicle-tv.com: they both use the same MGID advertising account. The Houston Chronicle is another fake news site from the same network that

we've covered before here

.