STORY UPDATED: check for updates below.
Fake news website News@Last posted an article titled "FARM MURDERS: US PRESIDENT THREATENS TO INTERVENE IF SOUTH AFRICA DOES NOT COME UP WITH A SOLUTION TO FARM MURDERS". The story opened:
According to news sources, US President- Donald Trump, said he is willing to lend a hand or come to the rescue if South Africa cannot provide a resolution to what he calls white farmers genocide.

Trump said he thinks the South Africa government is intentionally turning a blind eye to the matter because the farmer are white.
It then went on with following (fake) Trump quote:
I KNOW THE HISTORY OF THAT COUNTRY. SO IT'S SAFE TO SAY THIS IS ALSO A RACE ISSUE, WE SHOULDN'T BE SHY TO BRING UP RACE IF WE WANT TO ROOT THE PROBLEM
Before ending:
Trump also revealed he is open to discuss solutions to the problem, and the country should know that USA will not observe a country destroy itself.
We were unable to locate any source for the Trump quote. Nor did we find any of the "news sources" mentioned in the article that made any mention of Trump "lending a hand or coming to the rescue" in South Africa.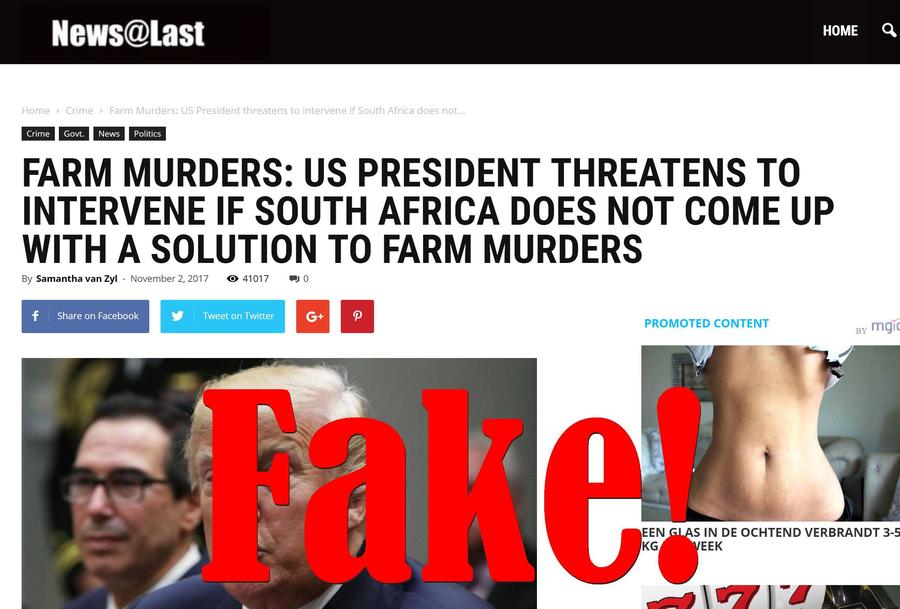 The website News@Last already published made up news before so we are going to go ahead and call this one fake news too.
2017-11-03T11:24:52Z

2017-11-03T11:24:52Z

The webiste News@Last (currently hosted at newsatlastsa.online) used to be hosted at

newsatlast.com

which apparently was suspended some time ago. According to the

Wayback Machine

it was still active in september of 2017. They were publishing

fake news at that time

too.

2017-11-03T11:12:06Z

2017-11-03T11:12:06Z

The original story mentioned "Mill SA" as the source. It looks like this was meant to read

Gossip Mill SA

, a gossip website of questionable trustworthiness that carries following disclaimer on its

about page

:

While every effort is made to ensure that the information provided on this website is current and accurate, you should not assume that this is always the case, and should consult other sources before making any decision to act on this information.