STORY UPDATED: check for updates below.
The story that a raid on a mosque in Dearborn, Michigan netted 11 terrorists and over 40 suicide vests is completely fabricated. There is no "Agent Nesmith Variacles of the FBI" and the "Department of Refugee Affairs" mentioned in the original article does not exist. The story was copied by several "real" fake news websites but in fact originated on the satircal website Reagan Was Right under the title "Late Night Raid On Michigan Mosque Nets 11 ISIS Terrorists and More Than 40 Vests". You can read the original here (archived here in case it goes down). The original article opened:
A mosque in a small town outside of Dearborn, Michigan has been raided by a joint task force from the FBI, Homeland Security and the ATF. According to preliminary reports from the scene, which is closed off for more than a mile, 11 "very dangerous men" who aren't supposed to be in America at all have been apprehended plotting what would have been our next 9-11.
A link in the original article supposedly going to a quote or statement from the fictitious Department of Refugee Affairs actually takes readers to this image:
Naturally many of the sites copying the story omitted the link to this image and also the satire disclaimer which is displayed at the bottom of every article on Reagan Was Right:
sat·ire ~ˈsaˌtī(ə)r
noun
the use of humor, irony, exaggeration, OR ridicule to expose and criticize people's stupidity or vices, particularly in the context of contemporary politics and other topical issues.
If you disagree with the definition of satire or have decided it is synonymous with "comedy," you should really just move along.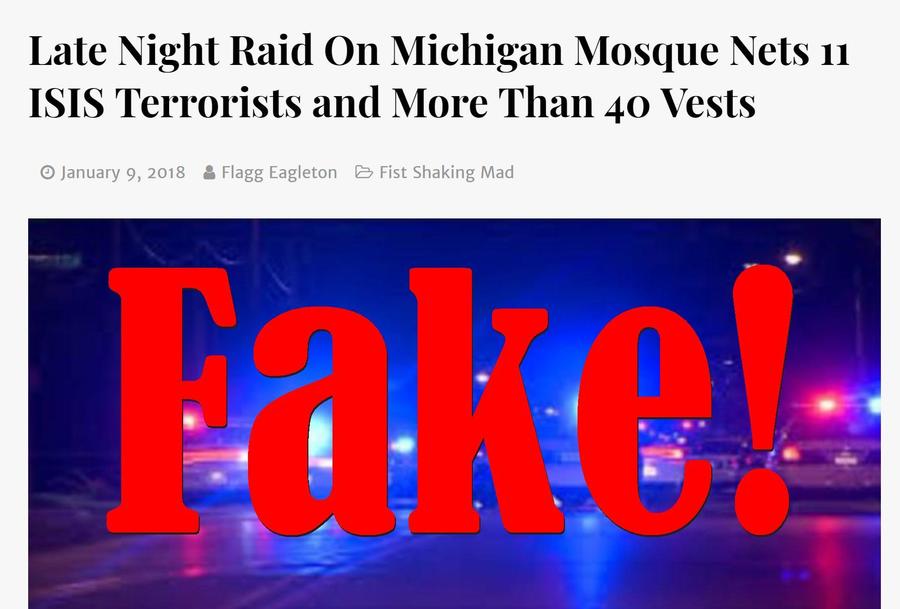 The owner and main writer of the site is self-professed liberal troll Christopher Blair, a man from Maine who has made it his full time job to troll gullible conservatives and Trump supporters into liking and sharing his articles. He runs several other websites such as ladiesofliberty.net, shareotonin.com and dailyworldupdate.com. Sometimes he is also known under his nickname "Busta Troll". He has at least one accomplice who writes under the pen names "Freedom", "Captain Jellypants", "Butch Mannington" or "Captain Buck Atlantis".
Articles from Blair's sites frequently get copied by "real" fake news sites who often omit the satire disclaimer and any other hints the stories are fake. Blair has tried to get these sites shut down in the past but new ones keep cropping up and he keeps knocking them down.
If you see one of his stories on a site that does not contain a satire disclaimer, assume it is fake news. If you do see the satire disclaimer it is of course also fake news.
2018-01-11T21:04:26Z

2018-01-11T21:04:26Z

Something weird is going on (besides the usual weird of an invented story going viral). Two of the most

successful copies

of the story in terms of likes and shares seem to live on two relatively new, identical looking sites: policetimes.info and usawithtrump.com. Yet unlike most run-of-the-mill fake news sites there seems to be absolutely no advertising present. The other articles on them also seem to be mostly copied from other sites. Either this is a case of automated content scraping where the sites weren't really finished yet, or perhaps having no ads is a new way to slip through various social media network filters (Facebook is known to downrank sites with lots of intrusive ads). Who knows? We'll keep an eye on these sites to see what happens next...