Did you hear the one about Rosa Parks' granddaughter "Muriel Fairbanks-Gouldman" giving a speech at historically black Moorehouse College? Where she supposedly said Rosa Parks would have stood up in that bus if the national anthem had started playing?
None of it is true, mostly because Rosa Parks never had any children so it would be problematic for her to have a granddaughter.
The origin of the story was satirical website Daily World Update which published an article on February 2nd 2018 titled "Rosa Parks' Granddaughter BLASTS Liberals: 'She Would Have Stood For The Anthem If It Played On That Bus'" (archived here).
"My grandmother did great things, but it saddens me to see my people disrespecting the freedom she fought for by kneeling in protest of our flag and anthem to make political points that could be better made in other ways," Muriel Fairbanks-Gouldman told the crowd.

"I can guarantee you that if the National Anthem would have begun playing she would have stood up in the back of that bus with her hand over her heart because she loved her country that much," she continued, stunning the crowd.
Rosa Parks was civil rights activist best known for refusing to give up her seat to a white passenger on a seggregated bus in Montgommery, Alabama, ultimately leading to the abolishment of that practice.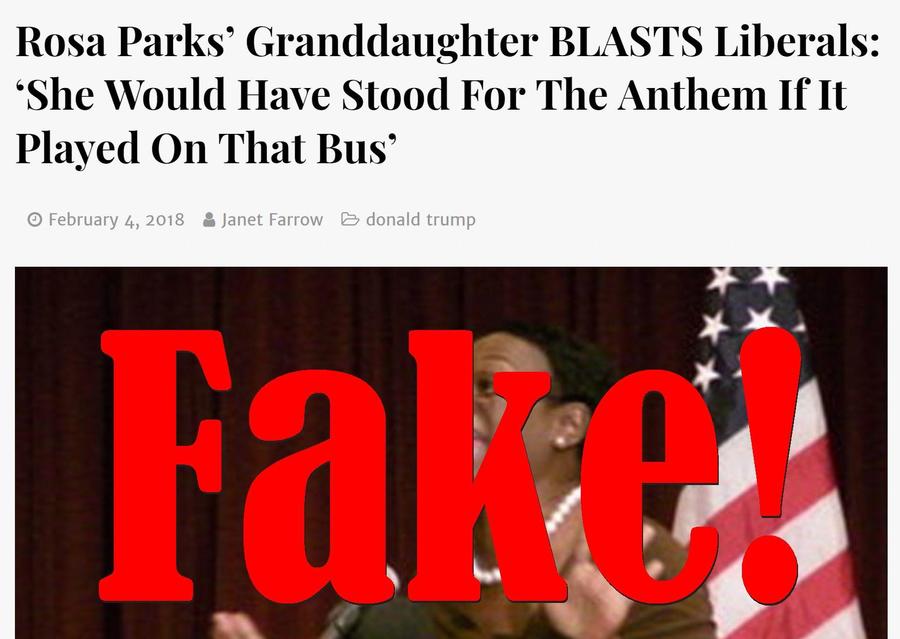 Also, the woman in the picture is actualy Ohio State Senator Nina Turner.
The Daily World Update is a satirical website with following disclaimer at the bottom of the page:
sat·ire ~ˈsaˌtī(ə)r
noun
the use of humor, irony, exaggeration, OR ridicule to expose and criticize people's stupidity or vices, particularly in the context of contemporary politics and other topical issues.
If you disagree with the definition of satire or have decided it is synonymous with "comedy," you should really just move along.
The owner and main writer of the site is self-professed liberal troll Christopher Blair, a man from Maine who has made it his full time job to troll gullible conservatives and Trump supporters into liking and sharing his articles. He runs several other websites such as ladiesofliberty.net, shareotonin.com and dailyworldupdate.com. Sometimes he is also known under his nickname "Busta Troll". He has at least one accomplice who writes under the pen names "Freedom", "Captain Jellypants", "Butch Mannington" or "Captain Buck Atlantis".
Articles from Blair's sites frequently get copied by "real" fake news sites who often omit the satire disclaimer and any other hints the stories are fake. Blair has tried to get these sites shut down in the past but new ones keep cropping up and he keeps knocking them down.
If you see one of his stories on a site that does not contain a satire disclaimer, assume it is fake news. If you do see the satire disclaimer it is of course also fake news.