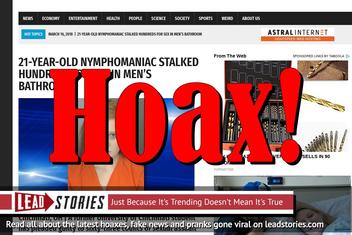 Did 21-year-old Alexandra Fox from Cincinnati, Ohio get accused of stalking and sexual assault against hundreds of men? Of course not, the entire story was a hoax published by a satirical website.
The website World News Daily Report first published an article on March 16, 2018 titled "21-year-old nymphomaniac stalked hundreds for sex in men's bathroom" (archived here) which opened:
Cincinnati, OH | A former University of Cincinnati student has pleaded guilty to sixty-three counts of sexual assault and fifty-six counts of stalking after she has been accused by multiple men in recent months.
Twenty-one-year-old Alexandra Fox had been scheduled to go to trial next week in one of the cases against her. Instead, she pleaded guilty to all of 132 total counts.

Those include guilty pleas to sixty-three counts of third-degree criminal sexual conduct, thirteen counts of strangulation and fifty-six counts of stalking.

The young woman, who is believed to suffer from some form of hypersexuality disorder, preyed on her victims by hiding in the men's restrooms and at Danbarry Dollar Saver Cinema located inside the Cincinnati Mall.
The woman in the picture that accompanied the story is not a nymphomaniac: she is actually Makenzie Halinski, a woman who accidentally killed her boyfriend in 2013:
Makenzie Halinski, 20, shot her boyfriend in the head on Monday night with a gun she 'thought wasn't loaded' Halinski told police the victim, Cole Campbell, told her the gun was unloaded before telling her, 'Shoot me' The couple had been drinking and smoking marijuana before the shooting occurred Halinski was charged with involuntary manslaughter A 20-year-old Missouri woman fatally shot her boyfriend on Monday night with a gun she told police she didn't know was loaded.
The website World News Daily Report is a well known satirical website specialized in posting hoaxes and made up stories. The disclaimer on their website is pretty clear about that even though you have to scroll all the way down the page to find it:
World News Daily Report assumes all responsibility for the satirical nature of its articles and for the fictional nature of their content. All characters appearing in the articles in this website - even those based on real people - are entirely fictional and any resemblance between them and any person, living, dead or undead, is purely a miracle.
It is run by Janick Murray-Hall and Olivier Legault, who also run the satirical Journal de Mourréal, a satirical site spoofing the (real) Journal de Montéal