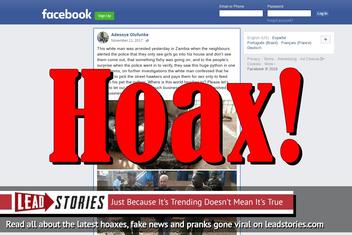 Was a white man arrested in Zambia for luring prostitutes to his home and then feeding them to his giant python? Nope, there is no truth to the story of the foreigner feeding hookers to his pet snake. That story was made up but has been circulating online for years.
We saw a copy of the hoax in a Facebook post dated November 11, 2017 (archived here) which was captioned:
This white man was arrested yesterday in Zambia when the neighbours alerted the police that they only see girls go into his house and don't see them come out, that something fishy was going on, and to the people's surprise when the police went in to verify, they saw this huge python in one of his rooms, on further investigations the white man confessed that he goes out to pick the street hawkers and pays them for sex only to feed them to his pet the python. Where is this world heading to? Please let's share to let our ladies who do such business to know the risk involved in such business.
But this is not the only version of the story. For example, here is a copy from a Nigerian site:
If true, this is really shocking. The news has gone viral and is being shared on Social Media According to the writer who wrote: This White Man Was Arrested Yesterday In Zambia For Using His Piton Snake To Swallow All The Prostitute Girls He Paid For Sexual Pleasures, The Neighbors Of This Man Complain To ...
Or a somewhat longer version from a different site:
By Ike A. Offor Some news is so nauseating that one wonders if it actually took place. What you are about to read now may seem outlandish, inauthentic but believe it, it all happened. I felt very reluctant to write this in the first place, which is why it took me time to put it down....
Or this one in The Daily Voice:
The man, whose identity is unknown, moved to Zambia to be 'closer' to African women and brought along his pet, a Burmese python with a big appetite. He was arrested by Zambian police last month after his hunger for a happy ending never ended well for his female friends, or prostitutes that he paid for sex.
What all of these stories are missing are basic answers to some of the questions every real journalist seeks to answer: Who, Why, Where, What, When? There is no date given for the events described, the man has no name, there is no mention of a city. At least they got the "what" and "why" parts covered...
But they covered them wrong.
The man pictured in the photo with the story has a name: "Baha Ukes", a New Zealander with Iranian roots, who was being led away in handcuffs for being suspected of wanting to marry an underage girl in Kenya in 2013:
Wednesday November 6 2013 In Summary Another man suspected to be a recruiter of the girls is also in police custody. It was not immediately established where he intended to take the two children but he claimed that he was finalising plans to marry one of them.
It was later reported by New Zealand media that the man went on a hunger strike after denying the charges:
A New Zealand tourist held in a Kenyan prison on child trafficking charges has gone on a hunger strike, saying he won't eat until he's freed.

Aucklander Ukes Baha was arrested in the company of two underage girls last month, but the 38-year-old denies any offending and says he is the victim of Kenya's legal system.

Baha has been granted bail, but he can't afford to pay the $23,000 for his release. He says the court has given him no time to come up with the money, and has only asked for such a large sum to keep him locked up.

"When he asked for seven days, you gave him two days," he argued in court. "My grievance is [not having] justice."

Baha, who was born in Iran, was arrested in a shopping mall with two underage sisters last month and charged with child trafficking offences. But he says he fell in love with one of the girls, so he paid her parents a dowry of eight cows and $100.
Whatever his crime was (or wasn't), it did not involve feeding people to a giant snake...