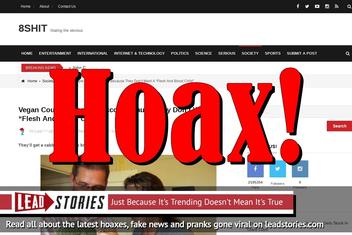 Did Mario Bostez and Irene Sancho, a vegan couple from Sevilla, Spain adopt a Japanese broccoli because they didn't want a child made out of flesh and blood? If that sounds a bit weird to you, you would be right. The story is false and originated on a Spanish satire website and it was later copied by an American site dealing in "faux satire", aka "fauxtire".
The English article was published on March 28, 2018 by 8shit.net under the headline "Vegan Couple Adopts Broccoli Because They Don't Want A "Flesh And Blood Child"" (archived here) and opened:
Mario Bostez and Irene Sancho, a couple from Sevilla, managed to adopt a broccoli coming from Japan. The vegan couple had to deal with a complicated process to prove that they can take care of the broccoli by keeping it in optimal conditions. "We didn't want a flesh and flood kid because we're vegans. That immediately makes you different and raises suspicions", said Mario.

Finally, after the long process they managed to get what they wanted and little Brasicacea is resting in her green-painted room.

"It's better to adopt them when they're little sprouts, since it's less traumatic for them", Irene explained, who wanted a Japanese daughter. "In Japan they don't want broccoli, and sometimes they let them go off or abandon them".
The Spanish original was published by El Mundo Today in July 2012:
Mario Bostez e Irene Sancho, naturales de Sevilla, han logrado adoptar un brócoli procedente de Japón. La pareja, vegetariana, ha tenido que lidiar con complejos trámites burocráticos hasta demostrar que puede cuidar del brócoli manteniéndolo en óptimas condiciones. "No queríamos un hijo de carne porque somos vegetarianos.
That site came with a legal disclaimer that read:
El portal "El Mundo Today" es un diario satírico cuyo único fin es el entretenimiento. Todos sus contenidos son ficción y no se corresponden con la realidad. Todos los referentes, nombres, marcas o instituciones que aparecen en la web se usan como elementos contextuales, como en cualquier novela o relato de ficción.
Translated to English it says:
The portal "El Mundo Today" is a satirical newspaper whose sole purpose is entertainment. All its contents are fiction and do not correspond to reality. All references, names, brands or institutions that appear on the web are used as contextual elements, as in any novel or fiction account.
We wrote about 8shit.net and their prank articles before:
The site 8shit.net carries a disclaimer of its own on its about page that reads:
8Shit is a satire and humor website.

It contains cutting edge satire on a diverse range of topics.

The website publishes fake news, shocking rumors and reports with incisive sarcasm, and humor.

We also post crazy real news which often sounds too good to be true.
And an additional disclaimer in the footer of every page:
8Shit is a satire news and humor website. All its content is fiction (except those posts under the "serious" category) and shouldn't be taken as real. All references, names and marks or institutions in this website are used as contextual elements, like in any novel or science-fiction story.
So have a good laugh about the article but don't spread it as real news...