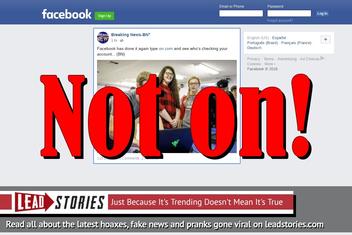 Is it true that typing "on.com" will show you who is checking your account on Facebook? Nope, that's not true, it is made up and entirely false.
We spotted the claim on a Facebook page named "Breaking-News-BN", we've embedded the post below:
It was published published on March 22, 2018 with the caption "Facebook has done it again type on.com and see who's checking your account... (BN)" (archived here).
In fact, on.com appears to be a website for "dating, chatting, or shiring photos" according to the page for their app on Apple's app store. Typing their address anywhere in Facebook doesn't really do anything (beside promoting their site maybe) and it certainly doesn't show you who is looking at your account.
This claim appears to be similar to an earlier one that went viral, namely that typing "BFF" in Facebook would show you if you were safe from hackers. That claim was already debunked as fake news by TechNave:
As fake news continues to thrive online, rumours about typing BFF on your Facebook to test if your account is secure from hackers or not is actually a hoax, a lie, a fraud. It is fake news at its best (or in this case, the worst).
Don't fall for these types of hoaxes asking you to type something in Facebook: they are usually meant to artificially drive up the engagement on a post, making Facebook's algorithm think it is something important that should be shown to more people (along with the other content of the page posting it).
Type "Amen!" if you think that is a sleazy tactic...