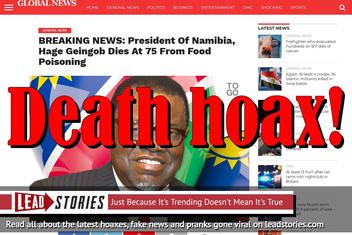 Fake news website GlobalNews (glonews360.com) is running a fresh copy of an old death hoax in an undated article published somewhere in March 2018 titled "BREAKING NEWS: President Of Namibia, Hage Geingob Dies At 75 From Food Poisoning" (archived here) which opened:
The President of the Republic of Namibia, Hage Geingob who acted as the head of state and the head of government of Namibia, as well as the commander-in-chief of the Namibia Defence Force,
according to the Constitution of Namibia is reported dead last night.

Last night, it appeared that late President Hage Geingob was said to have died after complaining of stoamch pain, a situation medical experts describe as food poisoning.

Accordiong to Dr Richard Morocky, President Hage Geingob now late was rushed to the Roman Catholic Hospital, in Windhoek in a very critical condition.

"Team of doctors including myself worked tirelessly to control the situation but all frantic efforts put up proved futile."-Dr Morocky said.
If the many spelling and grammar mistakes didn't betray the questionable nature of the site the fact that Geingob sent out this tweet recently proves he is still among the living:
After the good rains at Farm Hadaloha, and working the final details of my Independence Day speech, I spent the last half of the afternoon inspecting my harvest. Food security is a crucial aspect in eradicating poverty. Agriculture has the potential to transform our economy. pic.twitter.com/Op7VV0XEJy

-- Hage Geingob (@hagegeingob) March 20, 2018
The fake story appears to be an identical copy of an article that appeared on the (now defunct) houstonchronicle-tv.com website. You can still read it in Google's cache here, where it has been present since at least January 8, 2018. A similar death hoax appeared on March 19, 2017 on newsdaily-tv.com.
All three sites appear to be part of the same network of fake news sites that we dubbed the Dash/The Editor network and which seems to have been specializing in celebrity death hoaxes recently.