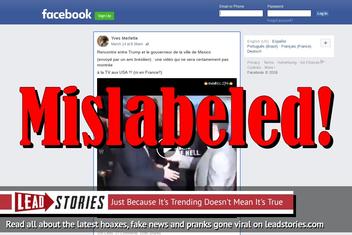 Is there really a video of President Trump and the Governor of Mexico City getting into a fight after the governor declines to shake hands and pulls on Trump's lapels and tie before tapping his nose, followed by Trump slapping him in the face and a security guard wrestling the man to the ground?
Yeah, no, not really. Facebook user Yves Merlette posted this video with following caption, originally in French:
Meeting between trump and the city governor of Mexico city (sent by a Brazilian friend): a video that will certainly not be shown On TV in the USA!!! (not in France!!)
Here is an embedded version of the video (which is also archived here):
The post was published on March 14, 2018 with the originally French caption "Rencontre entre Trump et le gouverneur de la ville de Mexico (envoyé par un ami brésilien) : une vidéo qui ne sera certainement pas montrée à la TV aux USA !!! (ni en France!!)" (archived here).
In fact the video was shown on TV in the United States but it predates the Trump presidency by quite a few years. It shows a clip from the WrestleMania 23 event that took place on April 1, 2007 and in which Donald Trump fought with Vince McMahon in a staged fight.
No Mexican governors were involved.