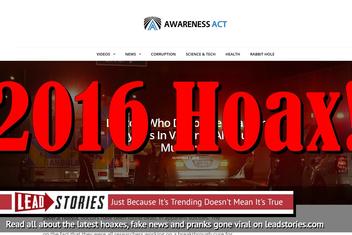 An old hoax about holistic doctors being murdered suddenly went viral again for no apparent reason. The story claims they were all murdered because they discovered some enzyme in vaccines was compromising people's immune system so it couldn't fight cancer anymore.
The version of the story that suddenly went viral again in 2018 was originally published on November 7, 2016 under the title "Doctors Who Discovered Cancer Enzymes In Vaccines All Found Murdered" (archived here). It opened:
Several holistic doctors have been found dead, in apparent suicides. The medical community is now speechless due to the timing of their deaths, based on the fact that they were all researchers working on a breakthrough cure for cancer.

Renowned autism specialist, Dr. James Jeffrey Bradstreet, was researching the enzyme prior to his death in July 2015. His body was discovered floating in a North Carolina river with a single gunshot wound to the chest.

Suspicions swirled that the doctor may have been killed as a result of his controversial research. Bradstreet and his colleagues had discovered that the immune system is being compromised by nagalase, which they suspected was being introduced through vaccines.
The claims in the article were already debunked in 2017 when another copy of the story surfaced on a different website:
A fake news story tried to connect the random deaths of doctors with conspiracy theories around vaccination. Neonnettle.com posted a story headlined,"Doctors who discovered cancer enzymes in vaccines found murdered," on March 2, 2017. Facebook users flagged the story as potentially being fabricated, as part of the social media site's efforts to clear fake news from users' news feeds.
The whole "murdered doctors" theme is part of a larger set of conspiracy stories making the rounds:
In just over a year, more than sixty holistic health practitioners have died suspicious deaths, and the media refuses to acknowledge that these deaths might be linked. False On 19 June 2015, a controversial doctor named Jeffrey Bradstreet was found dead in a river by a local fisherman from what the local sheriff's office later determined was a self-inflicted gunshot wound to his chest.
Still, the real mystery remains: why did a fake news article from 2016 suddenly get over 30,000 Facebook engagements (likes + shares + comments) in a single day?