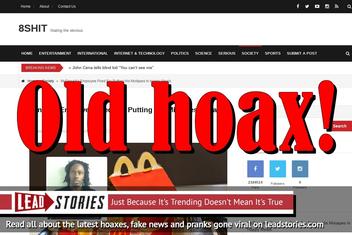 Was another McDonalds employee fired for putting mixtapes of his rap project "Tales Of A Real N*gga" in children's Happy Meals instead of a toy? And was this employee named "Tyshaer" this time? Of course not, it is just a slightly altered version of a 2015 hoax that featured a "Tyshaun Granger" as the culprit.
The "new" story appeared in an article published by the website 8shit.net on March 22, 2018 titled "McDonald's Employee Fired For Putting His Mixtapes In Happy Meals" (archived here) which opened:
According to report McDonald's employee named Tyshaer added his rap mixtape in the happy meals within a paper disc holder. On the mixtapes was printed the title of the project; "Tales Of A Real N*gga".

A customer Sarah Desmond said :

"I bought a happy meal for my son and inside came a mysterious cd. I, like any other parent, would assume the cd was for children. I played the cd in my car for my son while we drove home and lord Jesus have mercy on Tyshaer , the mixtape was dreadful. Not only was it completely inappropriate, but it was also the weakest set of bars I've ever heard" finished Desmond."
The article claims this version of the story at Huzlers.com (another fake news website) is the source. And apparently 8shit.net ran the same story on May 18, 2017 even though the link is now redirecting to the "new" version.
But the story is just slightly altered copy of a 2015 story from celebtricity.com that was debunked long ago by That's Fake. Back then they already pointed out the man in the photo that went with the story was actually Theodore Levon Upshaw, an actual McDonald's employee who got arrested for selling heroin out of the restaurant.
Furthermore, 8shit.net carries a disclaimer on its about page that reads:
8Shit is a satire and humor website.

It contains cutting edge satire on a diverse range of topics.

The website publishes fake news, shocking rumors and reports with incisive sarcasm, and humor.

We also post crazy real news which often sounds too good to be true.
And an additional disclaimer in the footer of every page:
8Shit is a satire news and humor website. All its content is fiction (except those posts under the "serious" category) and shouldn't be taken as real. All references, names and marks or institutions in this website are used as contextual elements, like in any novel or science-fiction story.