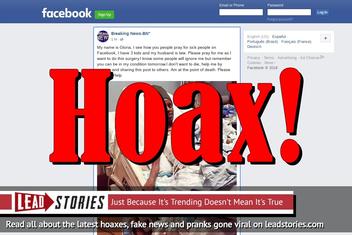 Did a woman named Gloria with three kids and a late husband request prayers on Facebook because she "wants to do a surgery"?
No, the entire thing is a cynical ploy by Facebook page "Breaking News-BN" to harvest likes, shares and comments in order to gain more influence in Facebook's algorithm.
A post appeared on the page on March 23, 2018 that showed a woman in a hospital bed (archived here) and following caption:
My name is Gloria, I see how you people pray for sick people on Facebook, I have 3 kids and my husband is late. Please pray for me as I want to do this surgery.I know some people will ignore me but remember you can be in my condition tomorrow.I don't want to die, help me by praying and sharing this post to others. Am at the point of death. Please share it. Help
In fact the woman in the picture is a woman from Kenya named Fyah Mummah Jahmby Koikai and according to several posts on her Facebook profile she is currently in Atlanta being treated for Endometriosis, a condition in which the layer of tissue that normally covers the inside of the uterus grows outside of it. We weren't able to find out if she has kids or a late husband but if anyone deserves thoughts, prayers, likes, shares or donations it is she, not the scamming Facebook page abusing her picture.
According to her most recent updates she is doing fine and recovering after surgery.