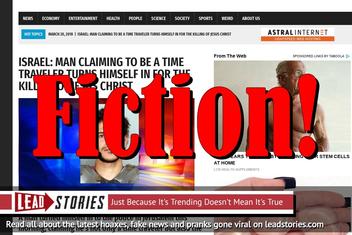 Did a man really turn himself in to Jerusalem police claiming to be a time traveling Roman centurion Caius Longinus Anxanumus who killed Jesus Christ? No, the whole story is made up and totally ficticious. It didn't happen and it is not true.
The story originated on satire website World News Daily Report in an article published on March 20, 2018 titled "Israel: Man claiming to be a time traveler turns himself in for the killing of Jesus Christ" (archived here) which opened:
A man turned himself in to the police in Jerusalem this morning, claiming he's not only a time traveler but also the killer of Jesus Christ.
The Jerusalem District Police has confirmed that an unidentified man dressed in a Roman armor presented himself this morning in its headquarters, carrying a blood-covered spear-like weapon.

The man, who speaks only in Latin, identified himself as the Roman centurion Caius Longinus Anxanumus and claimed to be a time traveler from the first century AD.
The man depicted in the image that went with the story is actually Mahmut Bikit, a people smuggler who was arrested in 2015.
The website World News Daily Report is a well known satire website specialized in posting hoaxes and made up stories. The disclaimer on their website is pretty clear about that even though you have to scroll all the way down the page to find it:
World News Daily Report assumes all responsibility for the satirical nature of its articles and for the fictional nature of their content. All characters appearing in the articles in this website - even those based on real people - are entirely fictional and any resemblance between them and any person, living, dead or undead, is purely a miracle.
It is run by Janick Murray-Hall and Olivier Legault, who also run the satirical Journal de Mourréal, a satirical site spoofing the (real) Journal de Montéal. Very often their stories feature an image showing a random crazy mugshot found in a mugshot gallery on the internet or on a stock photo website superimposed over a background of flashing police lights or crime scene tape.
Articles from the site are frequently copied (sometimes even months or years later) by varous fake news websites that omit the satire disclaimer and present the information as real.