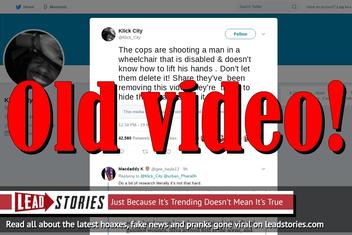 Did the cops just shoot a disabled black man because he didn't know how to lift his hands? On March 19, 2018 a tweet was posted that implied just that:
The cops are shooting a man in a wheelchair that is disabled & doesn't know how to lift his hands . Don't let them delete it! Share they've been removing this video they're trying to hide this please share it everyone pic.twitter.com/Or41J5UoFG

-- Klick City (@Klick_City) March 19, 2018
We archived the tweet here and the video here in case it gets taken down.
Just watching the video is enough to debunk the main claim: the man can clearly move his hands and appears to have enough strength in his arms to push himself upright in the wheelchair at one point.
The tweet went massively viral nonetheless, getting over 40,000 retweets in less than two days so far.
This despite the fact that the events depicted in the video actually happened in 2015:
At about 3 p.m., Wilmington police officers responded to reports of a man in a wheelchair with a self-inflicted gunshot wound. A woman called 911 saying she heard two gunshots near the rear of an AutoZone at 1810 Lancaster Ave., according to an investigative report released Thursday by the state Department of Justice.
Here are more details about what happened from that same article:
Video taken on a bystander's cell phone as McDole was confronted shows Wilmington police officers, guns drawn, telling him to raise his hands in the air and receiving no compliance. A single shot can be heard but it's unclear from the footage if McDole was hit.

The officers -- identified in the DOJ report as Senior Cpl. Danny Silva, Senior Cpl. Joseph Dellose, Cpl. Thomas Lynch and Cpl. James MacColl -- continue to advance, all the while demanding a show of submission through raised hands. Instead, McDole moves his legs with his arms to adjust himself in his seat before he reaches into his pocket.

Officers order McDole to "drop the gun" and continue ordering him to raise his hands. McDole repositions himself in his wheelchair and moves his hands onto the armrests. Less than a minute passes between the shotgun blast and the other three officers firing their weapons and killing McDole.
CNN later reported that a $1.5 million settlement was reached about the killing but that the city and police department did not acknowledge any wrongdoing and the police officers were not prosecuted because the Delaware DOJ did not find they had enough probable cause against them.
While it can be argued if the shooting was justified or not, saying that the man couldn't lift his hands is clearly false.