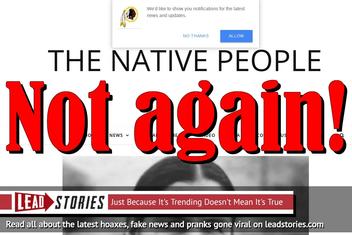 Did Native American Actor Steeve Reevis die on March 18, 2018? No: in reality he's been dead since December 7, 2017 but his obituary was just reposted by a website named "The Native People", probably in a cynical bid to attract clicks. The article was titled "R.I.P Actor Steve Reevis of 'Fargo,' 'Dances With Wolves' dies at 55 - The Native People" (archived here) and it opened:
Among the films he was featured in: "Twins," "Dances with Wolves," "Last of the Dogmen," "Fargo," and "The Longest Yard." He also appeared in the TV shows "Walker, Texas Ranger" and "JAG."

Steve Reevis, a Browning native who appeared in dozens of films, has passed away at the age of 56.

According to IMDB, in 1996 Reevis received an award from First Americans in the Arts for his supporting roles in both the critically-acclaimed movie "Fargo" and in the TV movie "Crazy Horse."
It even managed to get the man's age wrong in the second paragraph, falsely claiming he was 56 when he died.
Here is a screenshot of the reposted article in question:
We were unable to find out where the full text of the article came from but snippets of it were already present in this article from December 7, 2017, the day Reevis actually passed away.