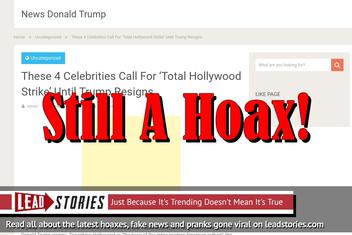 Did Rosie O'Donnell, Amy Schumer, Miley Cyrus and George Clooney threaten to go on strike along with various other celebrities until President Donald Trump resigns? No, they didn't (but I know of a few fact checkers that are threatening to go on strike if this hoax keeps coming back...).
The latest copy of this fake story is an article published on March 27, 2018 by the eminently trustworthy site named "News Donald Trump" under the headline "These 4 Celebrities Call For 'Total Hollywood Strike' Until Trump Resigns" (archived here) which opened:
Rosie O'Donnell, Amy Schumer, Miley Cyrus and George Clooney are part of a group of celebrities calling for a total Hollywood strike "until Trump resigns".

A group of liberal Hollywood celebrities are threatening a "massive, all-round Hollywood strike" unless Donald Trump resigns. Describing Hollywood as "the base of the entire modern American culture", the group also claims to be speaking on behalf of "all of humanity."

"It's about time people understood that we're the ones with the power and that the president is there to serve us, not the other way around", a spokesperson for the group told The New York Times.
The same hoax was already debunked in May 2017 by FactCheck.org:
Q: Did Hollywood celebrities threaten to strike until President Donald Trump resigns? A: No. That story was made up by a "HYBRID site of news and satire." FULL QUESTION Are eminent Hollywood celebrities preparing for a massive strike in Hollywood until Trump resigns?
The site www.newsdonaldtrumps.com is another example of a full-blooded patriotic American website... run from Albania:
Registrant Name: jehone llugaliu
Registrant Organization: labinotcom
Registrant Street: surkish
Registrant City: podujevo
Registrant State/Province: kosovo
Registrant Postal Code: 11000
Registrant Country: AL
Have your doubts about a site? Check out who owns it by doing a search on whois.com...