STORY UPDATED: check for updates below.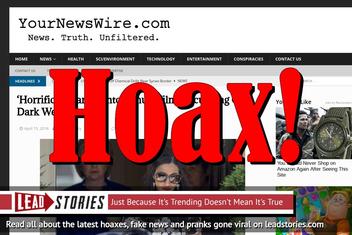 Is there a video named "Frazzledrip" circulating on the dark web that shows Hillary Clinton and Huma Abedin raping and slicing the face off a young girl and then drinking her blood? No, that's complete nonsense, no such video exists and the screenshots conspiracy websites are circulating as proof are not real.
We became aware of the rumors via an article published on April 15, 2018 on notoriously unreliable website YourNewsWire titled "'Horrific' Hillary Clinton Snuff Film Circulating On Dark Web" (archived here) which opened:
An "extreme snuff film" featuring Hillary Clinton and Huma Abedin raping and mutilating a prepubescent girl is circulating on the dark web, according to sources familiar with the material.

The video, code named Frazzledrip, has been circulating on the dark web since Monday, according to reliable sources who have viewed the material and confirm the content is "worse than any nightmare."

"The people who are coming back from viewing this tape are just not the same.".

Many people are unable to watch the video due to the horrific nature of the content, according to sources familiar with the tape.

In the video, they take a little girl and they fillet her face, according to reports, and then they take turns wearing the little girl's face like a mask. It is believed they were terrorizing the young girl, deliberately causing the child's body to release Adenochrome into her bloodstream before bleeding her out and drinking the blood during a Satanic ritual sacrifice.
The YourNewsWire article and several other forum posts and tweets we found all seem to be using a screenshot of this post by Facebook user Marsha Holland in the Facebook group MemeLab / QAnon / Q-Lab (which we screenshotted below and archived here):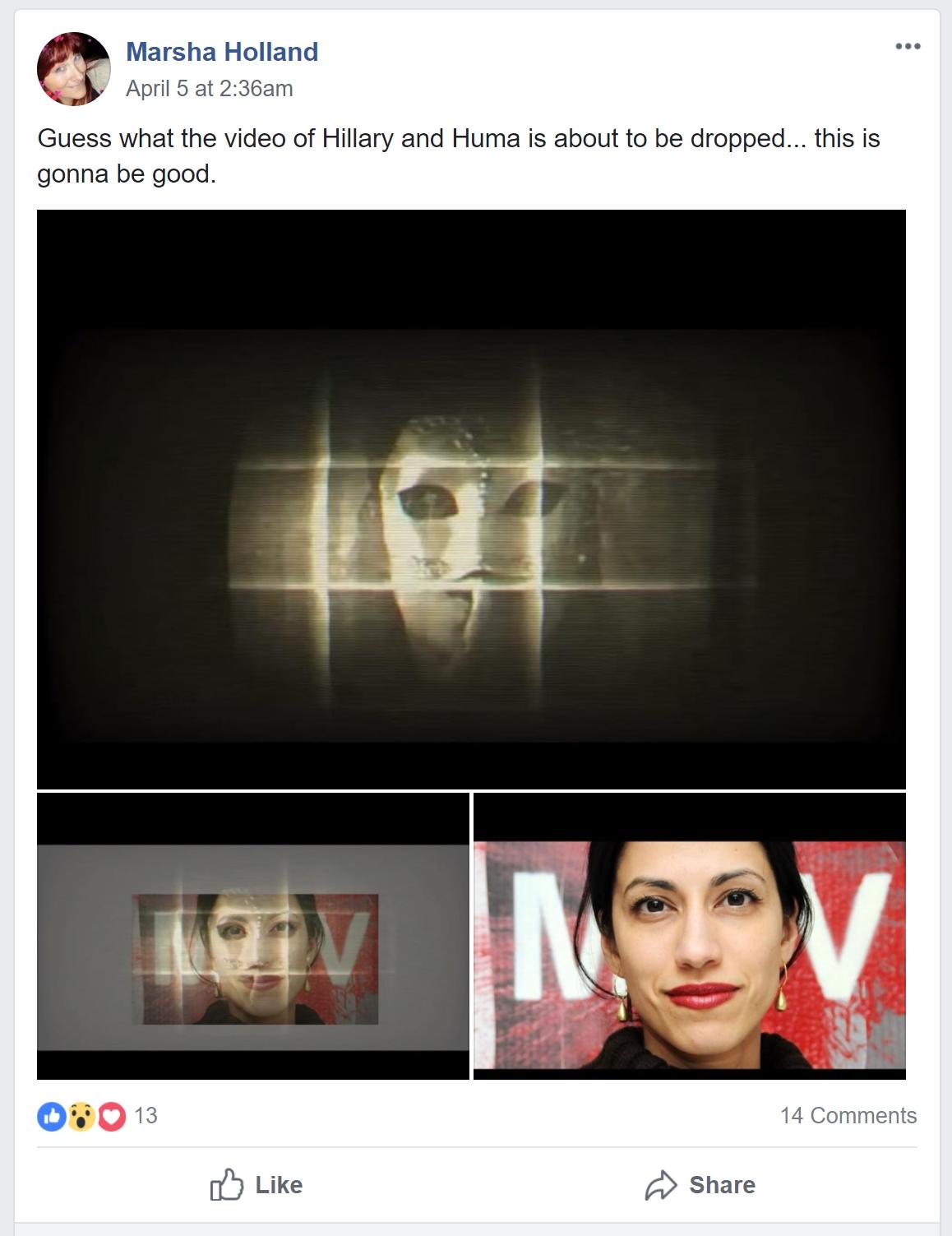 There are also various people claiming that anyone who tries to view or download the video will get arrested and that it was originally found in an "insurance file" folder on Anthony Weiner's laptop.
Looking at the date of the Facebook post it would mean the video had been circulating at least ten full days by now yet nobody has leaked a copy anywhere we could find. Even if you believe there is a secret conspiracy to protect Hillary Clinton there would be plenty of people willing to leak or host such a video so the fact that this hasn't happened yet tells you all you need to know.
In addition the source file for the image in the supposed video screenshot is at least eight years old according to image search engine TinEye (archived search results here). It seems to have been a promotional image to advertise for an Indian "supper club" in Washington D.C named "Hush Supper Club" (website archived here).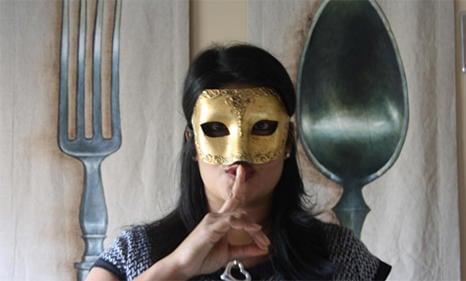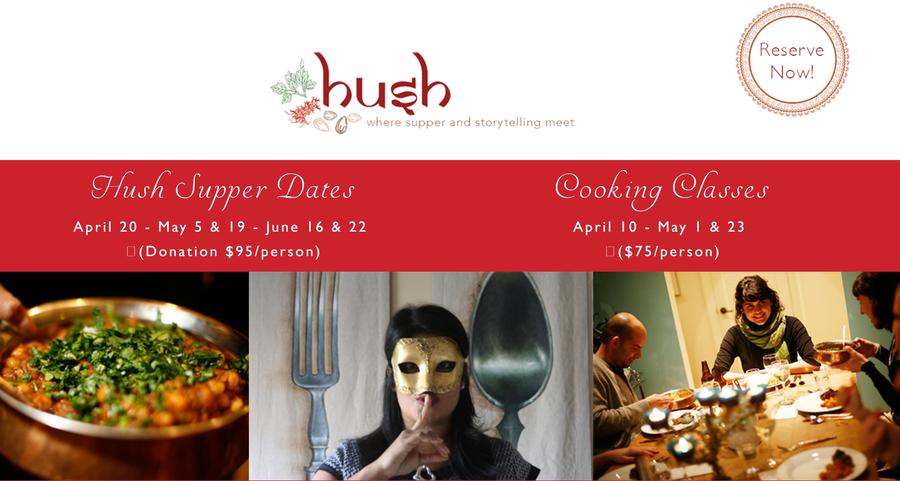 It looks like somebody has been having some fun making up fake video screenshots in order to troll the kind of people who are ready to believe in any conspiracy no matter how weird as long at it says something negative about Hillary Clinton.
YourNewsWire has published several hoaxes and fake news articles in the past so anything they write or publish should be taken with a large grain of salt anyway. Their Facebook page "The People's Voice" recently lost its verification checkmark according to a report from MMFA.
The Terms of Use of the site also make it clear they don't really stand behind the accuracy of any of their reporting:
THE PEOPLE'S VOICE, INC. AND/OR ITS SUPPLIERS MAKE NO REPRESENTATIONS ABOUT THE SUITABILITY, RELIABILITY, AVAILABILITY, TIMELINESS, AND ACCURACY OF THE INFORMATION, SOFTWARE, PRODUCTS, SERVICES AND RELATED GRAPHICS CONTAINED ON THE SITE FOR ANY PURPOSE.
The site was profiled in the Hollywood reporter where it was described as:
Your News Wire, a 3-year-old website of murky facts and slippery spin, is published by Sean Adl-Tabatabai and Sinclair Treadway -- a Bernie Sanders supporter in 2016 -- out of an apartment in L.A.'s historic El Royale.
RationalWiki described it as:
YourNewsWire (styled as YourNewsWire.com[1]) is an Los Angeles-based clickbait fake news website known for disseminating conspiracy theories and misleading information, contrary to its claimed motto ("News. Truth. Unfiltered").[1]
A while ago we also reported that YourNewsWire had rebranded itself as NewsPunch by changing its domain name in an apparent effort to evade filtering/blocking. It appears the site has changed back to it's old name in the mean time but you can still see the NewsPunch name in the contact email address in the footer.
We wrote about yournewswire.com and their hoaxes before, here are jusgt our most recent articles that mention the site:
2018-04-17T21:28:35Z

2018-04-17T21:28:35Z

Snopes debunked the video too, about a day after Lead Stories:

First, conspiracy theorists were convinced that children were being smuggled through a pizza restaurant — then things got weird https://t.co/Q71tLao2hw

— snopes.com (@snopes) April 17, 2018