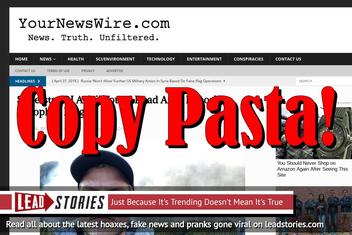 Did DJ Avicii expose a pedophile ring before he died? No, that's not true: if that was the case we would know who was a member of this supposed ring, what they did and when and who the victims were. That's what "exposing" means. But that is not what happened contrary to claims made in the headline of yet another fake article from YourNewsWire.
The article published by YourNewsWire on April 26, 2018 under the headline "Superstar DJ Avicii Found Dead After Exposing Pedophile Ring" (archived here) opened:
Disturbing links between the death of Avicii and the elite pedophile rings he was working to destroy continue to surface, with friends of the DJ and producer stating the 28-year-old multi-millionaire had dedicated the rest of his life to "protecting vulnerable children" and exposing the international elite predators that "abuse and rape children for sport."

Swedish superstar DJ Avicii died under suspicious circumstances last week while in Muscat, Oman, and his death rocked the entertainment world. Avicii, born Ted Bergling, was a pioneer of the contemporary EDM scene and a rare DJ capable of selling out arenas around the world.

He won two MTV Music Awards, one Billboard Music Award and earned two Grammy nominations. His biggest hit was "Le7els." However it is his explosive directorial debut video "For A Better Day" that has raised fears that 28-year-old Avicii's untimely death was not natural.
But it then contains no actual information about this pedophile ring. The whole story seems to be based on an article copied from another site which was already debunked by Snopes yesterday:
Swedish-born producer DJ Avicii died under suspicious circumstances while he was trying to use music videos to expose a pedophile ring False On 20 April 2018, news broke that the Swedish-born producer and DJ known as Avicii had been found dead in the country of Oman: Publicist Diana Baron said in a statement that the 28-year-old DJ, born Tim Bergling, was in Muscat, Oman.
If you check the search results page for "Pedophile ring" on YourNewsWire it seems like they "expose" or "bust" one almost every week. Yet they never reveal any identities or names of the members of these supposed rings, even though they invariably are prominent members of the "elite", "Hollywood" or "the Vatican".
YourNewsWire has published several hoaxes and fake news articles in the past so anything they write or publish should be taken with a large grain of salt. Their Facebook page "The People's Voice" also lost its verification checkmark according to a report from MMFA.
The Terms of Use of the site also make it clear they don't really stand behind the accuracy of any of their reporting:
THE PEOPLE'S VOICE, INC. AND/OR ITS SUPPLIERS MAKE NO REPRESENTATIONS ABOUT THE SUITABILITY, RELIABILITY, AVAILABILITY, TIMELINESS, AND ACCURACY OF THE INFORMATION, SOFTWARE, PRODUCTS, SERVICES AND RELATED GRAPHICS CONTAINED ON THE SITE FOR ANY PURPOSE.
The site was profiled in the Hollywood reporter where it was described as:
Your News Wire, a 3-year-old website of murky facts and slippery spin, is published by Sean Adl-Tabatabai and Sinclair Treadway -- a Bernie Sanders supporter in 2016 -- out of an apartment in L.A.'s historic El Royale.
RationalWiki described it as:
YourNewsWire (styled as YourNewsWire.com[1]) is an Los Angeles-based clickbait fake news website known for disseminating conspiracy theories and misleading information, contrary to its claimed motto ("News. Truth. Unfiltered").[1]
A while ago we also reported that YourNewsWire had rebranded itself as NewsPunch by changing its domain name in an apparent effort to evade filtering/blocking. It appears the site has changed back to it's old name in the mean time but you can still see the NewsPunch name in the contact email address in the footer.
We wrote about yournewswire.com before, here are our most recent articles that mention the site: