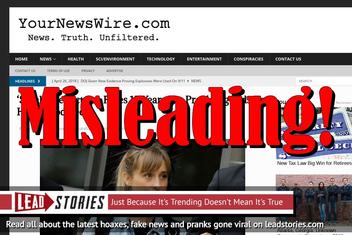 Is 'Smallville' actress Allison Mack facing up to 15 years in prison for providing children to Hollywood pedophiles? And did the police say she procured children for an elite pedophile ring? No, the part about the pedo ring is not true, although she is facing up to 15 years for sex trafficking and other crimes related to what some call a 'sex cult' linked to self help group NXIVM.
One of the stories containing the unproven pedophilia claims was published on April 25, 2018 by YourNewsWire under the headline "'Smallville' Actress Faces 15 Years For Providing Kids To Hollywood Pedos" (archived here) which opened:
'Smallville' actress Allison Mack faces up to 15 years in prison for procuring young children for members of an elite Hollywood pedophile ring.

The actress was released from federal custody Tuesday afternoon on a $5 million bail as she faces charges ranging from conspiracy to commit forced labor to child sex trafficking.

Foxnews.com reports: Mack, 35, who appeared in a tan jail uniform alongside her lawyers, was silent except for saying "yes, your honor" to questions from Judge Viktor Pohorelsky.

Mack was arrested last week, along with co-defendant Keith Raniere, in connection to her role in an alleged sex cult tied to the self help organization NXIVM.
On April 1, 2018 the site also published a similar story titled "Police: 'Smallville' Actress Procured Children For Elite Pedophile Ring" (which we archived here).
However none of the stories actually cited any sources for the pedophilia allegations. And the Department of Justice press release announcing the arrest and release on bail of the actress only speaks about "sex trafficking, sex trafficking conspiracy and forced labor conspiracy".
Actor Allison Mack was arrested this morning on an indictment unsealed today in federal court in Brooklyn charging her and Keith Raniere, also known as "Vanguard," with sex trafficking, sex trafficking conspiracy and forced labor conspiracy. Mack will be arraigned on the indictment this afternoon before United States Magistrate Judge Cheryl L.
It makes no mention of underage victims at all.
The article follows the standard pattern of YourNewsWire: usually the site takes some real news articles from mainstream sources and cuts them together, properly citing each source but then adding an introductory paragraph and a headline that adds an explosive but unsupported claim, often involving pedophiles or various conspiracy theories.
YourNewsWire has published several hoaxes and fake news articles in the past so anything they write or publish should be taken with a large grain of salt. Their Facebook page "The People's Voice" recently lost its verification checkmark according to a report from MMFA.
The Terms of Use of the site also make it clear they don't really stand behind the accuracy of any of their reporting:
THE PEOPLE'S VOICE, INC. AND/OR ITS SUPPLIERS MAKE NO REPRESENTATIONS ABOUT THE SUITABILITY, RELIABILITY, AVAILABILITY, TIMELINESS, AND ACCURACY OF THE INFORMATION, SOFTWARE, PRODUCTS, SERVICES AND RELATED GRAPHICS CONTAINED ON THE SITE FOR ANY PURPOSE.
The site was profiled in the Hollywood reporter where it was described as:
Your News Wire, a 3-year-old website of murky facts and slippery spin, is published by Sean Adl-Tabatabai and Sinclair Treadway -- a Bernie Sanders supporter in 2016 -- out of an apartment in L.A.'s historic El Royale.
RationalWiki described it as:
YourNewsWire (styled as YourNewsWire.com[1]) is an Los Angeles-based clickbait fake news website known for disseminating conspiracy theories and misleading information, contrary to its claimed motto ("News. Truth. Unfiltered").[1]
A while ago we also reported that YourNewsWire had rebranded itself as NewsPunch by changing its domain name in an apparent effort to evade filtering/blocking. It appears the site has changed back to it's old name in the mean time but you can still see the NewsPunch name in the contact email address in the footer.
We wrote about yournewswire.com before, here are our most recent articles that mention the site: