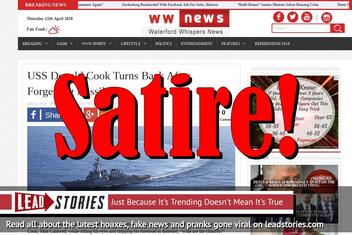 Was the Arleigh Burke-class guided missile destroyer Donald Cook deployed to waters near Syria and did it have to turn back because the crew forgot to load missiles in port? No, that last part did not happen: it was made up by a satirical website, it is not true.
The Waterford Whispers News published an article on April 12, 2018 titled "USS Donald Cook Turns Back After Forgetting Missiles" (archived here) which opened:
"I'd forget my head if it wasn't screwed on," voiced embarrassed commanding officer of the USS Donald Cook, Matt Caldwell, while rolling his eyes and slapping his forehead in disbelief, "what are the chances?"

Arriving in the Mediterranean Sea yesterday afternoon, the Arleigh Burke-class guided missile destroyer departed Larnaca, Cyprus, before making a U-turn after United States Navy personnel realised they had forgotten the most important component of the vessel - its payload.

"At least we realised it before the war started, otherwise we sure would look real stupid," Cmdr. Caldwell explained.
The ship USS Donald Cook is real and it is currently deployed near Syria according to news reports:
Russian and Syrian forces are reportedly bracing for an imminent American strike in response to a deadly chemical weapons attack on civilians in the suburbs of Damascus. Pro-government forces are said to be evacuating from major airports and military air bases, according to the Times of Israel, citing reports from the Syrian Observatory for Human Rights.
But the commanding officer is Matthew J. Powell according to the official website of the ship, not Matt Caldwell.
The site Whaterford Whispers News also has a disclaimer page which reads:
Disclaimer
Waterford Whispers News is a fabricated satirical newspaper and comedy website published by Waterford Whispers News.

Waterford Whispers News uses invented names in all its stories, except in cases when public figures are being satirized. Any other use of real names is accidental and coincidental.
For that reason alone you should probably never believe anything they publish.
We wrote about waterfordwhispersnews.com hoaxes before, here are our most recent articles that mention the site: