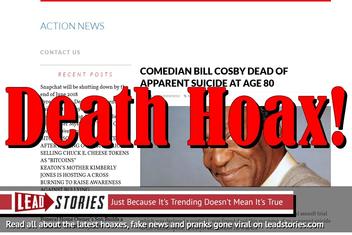 Did Bill Cosby commit suicide by hanging himself with a rope after being convicted for sexual assault? No, that's not true: it is just an old death hoax from last year that is being recycled after Cosby's recent guilty verdict in a case involving aggravated indecent assault.
The story originated from an article published by ActionNews3 in October 2017 titled "COMEDIAN BILL COSBY DEAD OF APPARENT SUICIDE AT AGE 80" (archived here) which opened:
Actor and comedian Bill Cosby, who was recently involved in a sexual assault trial which was declared a mistrial , was found dead this morning of an apparent suicide in his Philadelphia, Pennsylvania home. He was 80.

His death has been reported as "a suicide due to asphyxia." Philadelphia police confirmed that Cosby committed suicide by hanging himself with a rope. Cosby was discovered by his wife and left no suicide note.

"Bill Cosby passed away this morning," his reps said in a statement. "He had been battling sexual assault accusations which left him in a state of depression. This is a tragic and sudden loss. The family respectfully asks for their privacy as they grieve during this very difficult time."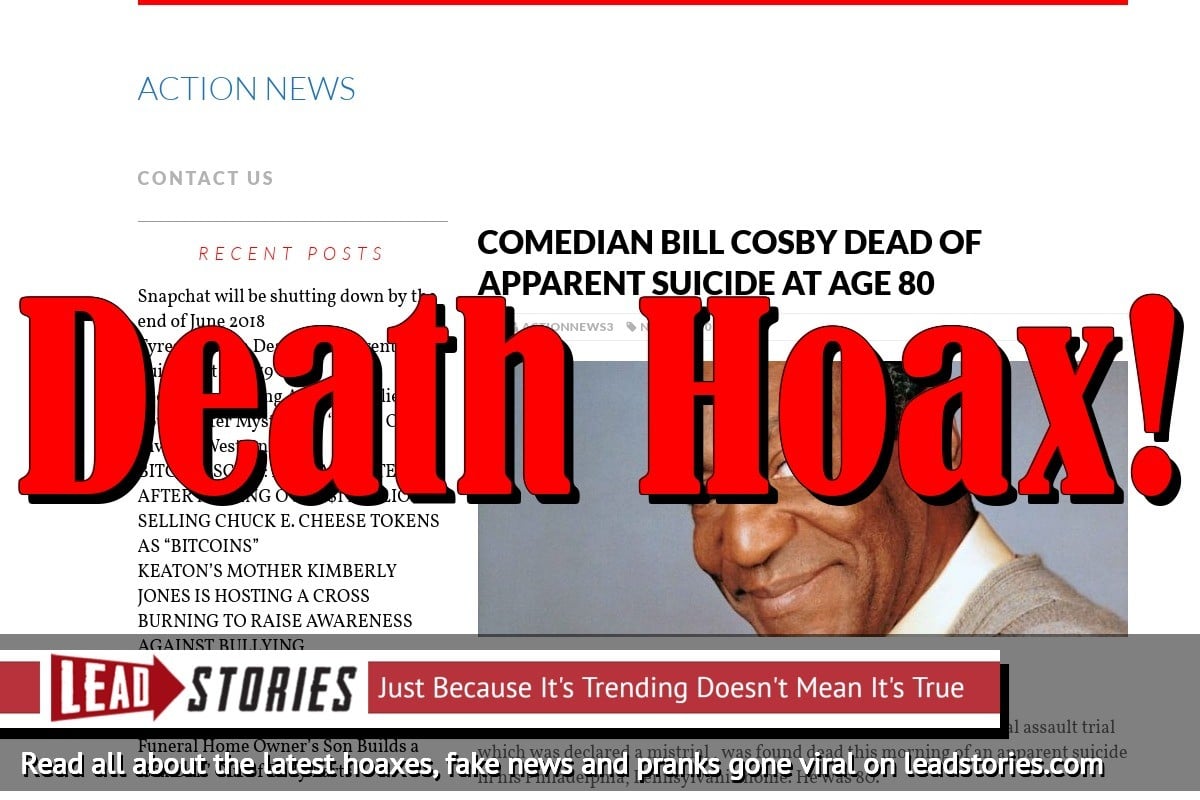 Cosby was recently found guilty so there was no mistrial in the recent court case, contrary to what the death hoax claims:
NORRISTOWN, Pa. - Bill Cosby was convicted Thursday on charges that he drugged and molested Andrea Constand in 2004 at his home near here. His lawyers have said they will appeal, but that is a process that could take months, even years. What's going to happen next?
The mistrial happened a year ago in 2017:
Revelations from inside the deliberation room are shedding new light on what exactly happened to deadlock 12 jurors in the Bill Cosby sexual assault trial earlier this month. An anonymous juror told ABC News that after 52 hours of intense discussion and dissent, there were 10 jurors who believed Cosby was guilty on two of the three counts filed against him.
And on top of that ActionNews3 is a fake news website that is part of a network of similar sites posting false stories all hosted on the same IP address (67.227.229.104). Notorious hoax sites in the network seem to include:
actionnews3.com
news4ktla.com
now8news.com
theracketreport.com