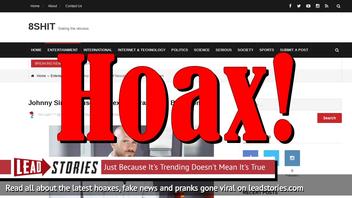 Was actor Johnny Sins accused of sexual harrasment by eight women? No, that's not true, the story came from a satirical website that was spoofing recent sexual harrasment allegations made against Morgan Freeman. Most of what Sins was alleged to have done did indeed happen but it was all consensual because the man is a porn actor.
The story came from an article published by 8Shit on May 24, 2018 titled "Johnny Sins Accused Of Sexual Harassment By 8 Women" (archived here) which opened:
Johnny Sins, an actor, engineer, doctor, astronaut, karate master, pizza deliver guy, plumber, dentist, school teacher, business man, scientist, soldier, firefighter, detective, cop, wrestler, football coach, and many other professions, has been acc*sed of disrespectful conduct towards women. One of the biggest contributors to society, who has helped many woman throughout his entire life, has been acc*sed by 8 of them, who claim that he "forcefully kissed them" and "spanked them" without the required consent.

According to CNN, the women allege that it happened during one of the films (Sins is also an actor). "He was giving me a penetrating look, and 5 minutes later, it was a penetrating penis.", said one the women, who decided to remain anonymous.

"He spanked me. I told him to stop but he wouldn't stop. I was screaming but no one could hear me. It was all planned like in a movie." said another woman.
We were unable to locate any reports on the website of CNN even mentioning Johnny Sins. The actor has hundreds of porn videos to his credit on his IMDB profile:
Johnny Sins, Actor: World War XXX. Undoubtedly, one of the most popular performers in porn as far as the Millenium-class are concerned, is Johnny Sins. Tall, muscular and well-endowed as often talked about by his fans, Johnny made his entrance into the porn industry in 2006.
The story spoofs the recent media reports about Morgan Freeman, another popular actor, being accused of inappropriate behaviour towards women:
At 80 years old, Freeman is one of Hollywood's biggest stars, with a movie career that spans nearly five decades. His starring roles in movies like "Driving Miss Daisy" and "Shawshank Redemption" in the late 1980s and early 1990s made him a household name.
Furthermore, 8shit.net carries a disclaimer on its about page that reads:
8Shit is a satire and humor website.

It contains cutting edge satire on a diverse range of topics.

The website publishes fake news, shocking rumors and reports with incisive sarcasm, and humor.

We also post crazy real news which often sounds too good to be true.
And an additional disclaimer in the footer of every page:
8Shit is a satire news and humor website. All its content is fiction (except those posts under the "serious" category) and shouldn't be taken as real. All references, names and marks or institutions in this website are used as contextual elements, like in any novel or science-fiction story.
We wrote about 8shit.net before, here are our most recent articles that mention the site: